Medium ruby color; black cherry, forest floor, vanilla, spice on the nose; black cherry, plum, raspberry, wild berries on the palate.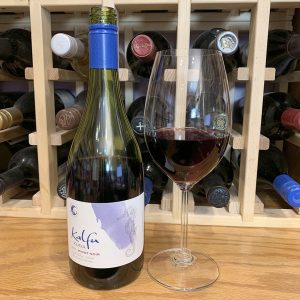 Dry; oak influences from years in barrel—10% new, 20% second use, 70% third and fourth use. Sweetness from oak. Somewhat rustic. Good acidity (3.5 pH). Medium body; rounded, tame tannins. Dense, dark fruit; vanilla, tree nut notes. Becomes sweeter and fruitier with time in glass. Smoke and spice on the relatively short finish; 14% ABV.
100% pinot noir grapes from Las Terrazas vineyard in the Leyda Valley. This is the premium habitat for Ventisquero-Kalfu pinot noir.
Looses some of its rusticity with time in glass. Still, this is Chile's version of a low-cost pinot noir, so do not expect much refinement. Drinks like a warm-weather, mass-produced California effort. Which will be fine for some drinkers, and at the same or slightly less price point.
Kalfu is brand of Ventisquero winery. According to the website: "Kalfu means "Blue" is Mapudungun, the language of the aboriginal Mapuche people of the region. It represents the color that provides a myriad of sensations: blue, like the Pacific Ocean's intense blue; and blue, like the free sky, acting as an accomplice of and witness to the mysterious origins of life."
The Kalfu logo is a seahorse, which makes for interesting riff on the website: "In the case of the seahorse or hippocampus, the female lays her eggs and then the male takes care of them until the new seahorses emerge fully developed. Unlike other sea creatures, sea horses of delicate and unique, so they need to be cherished."
Kalfu Kuda Pinot Noir Leyda Valley, Chile 2017 displays dense, dark, meaty fruits. Same time, easy drinker, especially after some air in glass. Although the logo includes a delicate seahorse, this is much more a sturdy, robust version of pinot noir with heavy fruit flavors. Pair with turkey; salmon and fatty fish such as tuna, grouper, albacore; white meats; pasta dishes; pizza. $15-19
Kalfu website, includes a nice video