Pale gold straw; white peach, lemongrass, honeydew melon on the nose; white peach, Meyer lemon, pear, grapefruit, melon, lychee, tangerine, faint oak on the palate.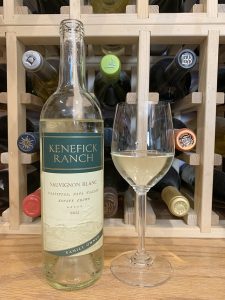 Dry; light, crisp, with an enchanting round softness playing with the good acidity (3.28 pH). This clearly is a Napa expression of sauv blanc, not a New Zealand razor cut. Light-medium body. 100% estate grown sauvignon grapes. Barrel fermented in 90% neutral French oak, 10% once-used, which delightfully contributes to its approachable nature. Spent six months on the lees in barrel for depth and complexity. No noticeable tannin. 14.2% ABV
Vintage 2021 opened with a dry winter, followed by a warm growing season, resulting in a light harvest and concentrated flavors. The result is an outstanding wine, and a bounce back vintage. Chris Kenefick, VP for sales for the family-owned company noted: "This vintage of our signature Sauvignon Blanc is very special to us, especially considering we lost the entire 2020 harvest to the California wildfires."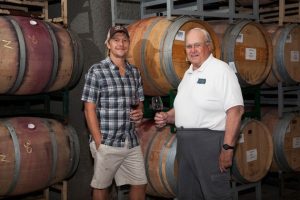 Kenefick Ranch is family owned, founded by neurosurgeon Tom Kenefick. In 1980, he purchased a 250-acre ranch in Calistoga—Napa's northernmost AVA. Dr. Kenefick retired from neurosurgery in 2002 and his winery focused on producing under its own label. Prior to that, the operation sold grapes to Caymus Vineyards, Nickel + Nickle, and to wine makers Thomas Rivers Brown and Heidi Barrett, among others.
Dr. Tom passed in 2021, but family still operates the winery. His legacy lives on. Tom: "I must have had a great guardian angel. I didn't know enough about viticulture at that point to make a good decision." If you have what it takes to be a neurosurgeon, you know how to attack a subject. So Tom did. And succeeded. He spent almost every weekend working on the ranch—including doing tractor work—and introduced his children to the vineyard and the work.
Today his children—Caitlin, Chris—run the operation. Kent Jarman is the winemaker. The Garcia family is the second vital family in this story. Patriarch Augustine "Gus" Garcia began working on the ranch in 1985. He moved his family to the estate in 1996. Today, four brothers and their six sons work for Kenefick Ranch and most live on the property.
Gus notes: "By working in the field—seeing changes in the vineyards, developing new farming practices—I've learned more about the industry than by going to school. This property is my home—the beautiful mountains and the wonderful views."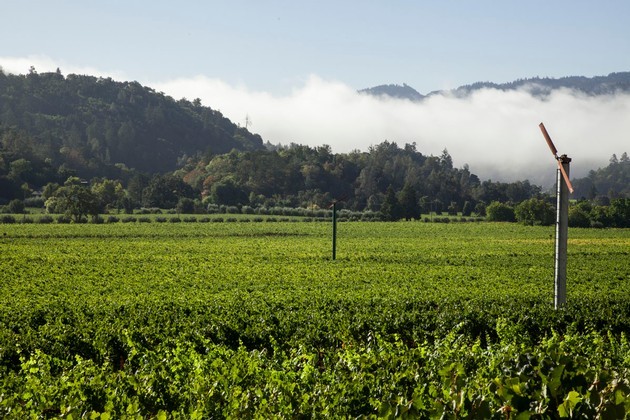 Kenefick Ranch Sauvignon Blanc, Calistoga, Napa Valley 2021 is refreshing, interestingly rich, fruity, delicious. Much fruitier and softer than New Zealand, but wonderful and clearly worth enjoying in its own right. Qualifies as the classic "salad in a glass"—but without the tartness. That is a nice selling point to many drinkers. Try this and see if this pleasures your palate. Tasty and inviting enough to work as an aperitif, especially at summer evening garden party. Pair with shellfish; shrimp piccata, freshwater fish; lighter meats; summer salads, especially with some fruit accents; charcuterie board, again with fruit as part of the offerings; vegetarian fare. Cheese—goat cheese is the default with sauv blanc; goat milk cheddar, gouda, havarti, monterey jack, muenster, parmesan, swiss. $30