Deep pink color; red berry, cherry on the nose; light cherry, watermelon, strawberry candy on the palate.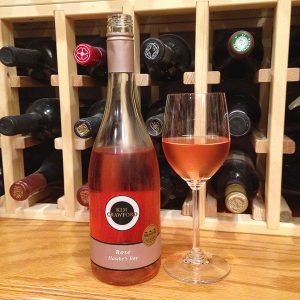 Dry; excellent acidity (3.28 pH); light body; some fruity sweetness with vibrant fruit flavors; 100% merlot. Simple, uncomplicated sipper, although a merlot rosé play from NZ is not something you see every day. Its beautiful color and notes of fruit sweetness in the mid-palate combine with its dry finish, merlot softness, and acidity make for a wine ladies can enjoy around the pool using plastic cups (or plastic wine glasses). This won't cause serious rosé lovers to forswear Provence, but it is easily serviceable for a fun time frolic.
Kim Crawford wines focus on flavor and value. Now a Constellation Brands product, the person Kim Crawford was a pioneer in New Zealand winemaking. First known for superb sauvignon blanc—six years after the founding of the winery in 1996 Crawford's sauv blanc made Wine Spectator's 100 best wines in the world list—KC also was innovative in bottling, turning to screw caps early because he believed it helped preserve and emphasize the fruit flavors. Today Kim Crawford is a world player in sauv blanc and, increasingly in pinot noir—the two varietal stars of New Zealand.
Kim Crawford Rosé Hawke's Bay 2016 is a pleasing summer pour with plenty of berry fruit and watermelon; refreshing. Will pair with lighter salads and lighter finger foods, also works as an aperitif. $15-18