Medium copper color; Granny Smith apple, lemon zest on the nose; lemon, citrus, strawberry, Granny Smith on the palate.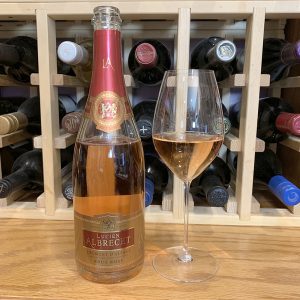 Brut; bright, round, refreshing in the mouth. Extremely vigorous, lengthy effervescence. Nice tartness, emphasizing the core of lemon and Granny Smith through the mid-palate, but then there is a surprising, and pleasing, creamy note of fruity citrus and strawberry on the finish. Well played, Lucien Albrecht; 12.5% ABV.
Intriguing and compelling. The sweetness interplays with tartness and a pinch of salinity after the initial lemon cavalry charge on your palate. Then marches in other elements that snaps your head back: whoa, isn't this a crémant for around $20? Crémant refers to a traditional method sparkling made in parts of France that are not Champagne. They typically are great values, as is this effort.
The Maison Lucien Albrecht origins date to 1698 when Balthazar Albrecht settled in Orschwihr, south of Colmar (Haut-Rhin—Alsace), a small Alsatian village in an ideal location for wine vines. The family began cultivation of vines in the vicinity of Orschwihr in 1827.

Today, the website claims the eighth generation continues to work the soils of this unique terroir. The winery's website: "Handed down from father to son, the experience acquired by generations of these nature lovers allows this family to adapt its wine-growing and wine-making methods gradually from year to year, in order to get the very best out of this one-of-a-kind terroir. This gradually brings out all the finesse of Lucien Albrecht wines which, thanks to the argilo-calcareous soils, are characterised by their unique aromatic structure and freshness."
In the 1970s, Lucien Albrecht pioneered the emergence of Crémants d'Alsace. The effort paid off in 1976 with the AOC Crémant d'Alsace designation of origin. In 2012, the winery relaunched its Maison Lucien Albrecht label after the company shocked Alsace by filing for bankruptcy. The operation was taken over by the Wolfberger cooperative, an organization of local grape growers. You won't find anything about the bankruptcy on today's Lucien Albrecht website, but such cooperatives are a staple of European wines today.
The Wolfberger website asserts it is: "the first brand of Alsace wines that celebrates, in 2017, its 115 years of expertise in the service of the Alsatian vineyards. More than a century of history and conquest, the Wolfberger story is the adventure of unified and always pioneering winemakers who have never stopped innovating." Regardless of the ownership tumult, the land yields good grapes and Lucien Albrecht produces good wines.
Lucien Albrecht Crémant d'Alsace Brut Rosé delivers interesting and delicious complexity. From lemon-focused beginning to creamy and fruity, with some counter-point tartness to deliver complexity, at the pleasing finish. Crémant delivers great value in French sparkling wine made in the traditional method. Do not hesitate to put this on your shopping list. Sparkling pairs with virtually everything. I enjoyed this with a salmon Caesar salad, but you could throw a dart at most menus and not go wrong. Also works as aperitif and celebratory wine at an event. $20-24