Medium straw color; grapefruit, honeydew melon, pineapple, apple on the nose; melon, lemon, grapefruit, green apple, spice on the palate.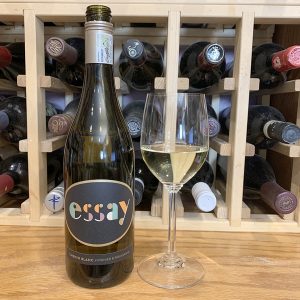 Dry; vibrant, zesty; mouth watering acidity. Mineral notes. Medium body. Nice layers and complexity thanks to time on the lees and blend of 78% chenin blanc, 13% viognier, 9% roussanne. The wine is only made with free run juice (no pressing of the grapes), thus emphasizing clean, ripe fruit, and natural character of the grapes. All grapes sourced from dry-land, bush vines (untrellised) in Agter-Paarl region.
Fermentation in stainless steel for 20 days. Wine remains on the lees for three months for richer mouthfeel. No oak. Fined and filtered before bottling. Very nice aromatics from fruit purity and the viognier. Delicious throughout, even brings a hint of honey on the finish, especially after some exposure to air.
The winery is a collaboration between José Conde and brothers Tyrrel Myburgh and Philip Myburgh. Conde spent 10 years in New York City and five in Tokyo, then realized he really wanted to live in a small town at the tip of Africa. The website notes: "He is the owner/winemaker of the award-winning Stark-Condé Wines in Stellenbosch, his Cabernet Sauvignons have 5 times been chosen as Platter five-star wines and twice received the Six Nation Wine Challenge Trophy for Best Cabernet Sauvignon."

The website presents its story: "We are José Conde and brothers Tyrrel and Philip Myburgh. We started making wine together in 2001. We're further supported by a group of dedicated grape growers from the Agter-Paarl region.  From our first 300 cases made in a tractor shed, we have grown to producing over 250 000 cases per year and exporting to 25 countries."
The website explains the winery name: "We wanted quality wine that offered excellent value and great packaging. Not exactly an epiphany, perhaps, but enough to motivate us into action. Of course, first we had to come up with a name. To keep peace in the families, we took our wives' initials (we each have one wife)—that is how we explained to Marie, Anette and Nicky that we were going to be 'busy' most weekends. 'It's for you!' we told them. And mostly it's true."
The Essay brand name is a play on words. "SA" is the popular way of saying "South Africa" in South Africa. It also implies an assemblage/blending of ingredients that creates a whole greater than the individual parts, according to the label.
MAN Vintners Essay Chenin Blanc Viognier & Roussanne 2019 is vibrant and delicious with impressive depth. Easy drinker with inviting creaminess and smoothness. Chill and enjoy on its own on porch, patio, poolside, dock, deck, picnic. Pair with sushi; grilled seafood; fish tacos; calamari; crab cakes; oysters; pork tenderloin; Asian salads; mild and soft cheese. $12-15