Medium-dark ruby color; cherry, cigar box, chocolate, brown sugar on the nose; black cherry, cocoa, blackberry, black plum, sweet spices on the palate.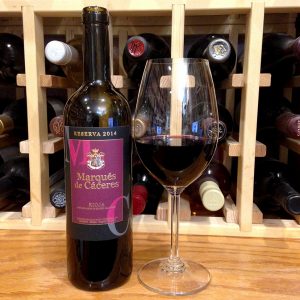 Dry; medium full-bodied, supple red with earth notes, vivid, ripe black cherry fruit. The label says you should allow the wine to breath an hour before pouring, so I went straight to the decanting with no pop-and-pour taste. Rich and tasty with firm, ripe, well-behaved tannins; juicy, balancing acidity. Appropriate oak from French oak casks. As a reserva, this was required to age three years before release; 14% ABV.
The initial attack is all black cherry, but the cocoa/chocolate and blackberry arrive, framed by the tannin, oak, and acidity to present a nicely structured delight. Some mocha and espresso make cameo appearances during impressively long finish, especially after some more air in glass and your second-glass pursuit of this Rioja adventure.
Blend of 85% tempranillo, 10% garnacha tinta, 5% graciano. There was up to 25 days of alcoholic maceration to bring out the color, aromas, and tannic structure. Malolactic fermentation happened in stainless steel, followed by 20 months in French oak, split between new and two and three-year-old barrels.
Enrique Forner founded Marqués de Cáceres in 1970. At the time, it was, according to their website, "a historic Alliance between a region (Cenicero, La Rioja Alta), an enterprising family that has been devoted to the wine trade for five generations, the best vine growers and vineyards in La Rioja and a Bordeaux concept which revolutionised the production and business model with a single objective: the quality to obtain the best wines, an obsession that today continues to be the leitmotiv of Cristina Forner, the fourth generation of this wine family."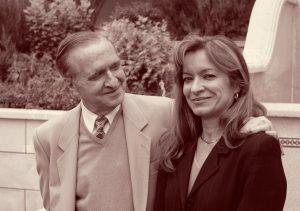 Marqués de Cáceres was a pioneer importer of Rioja into the U.S. market. Today, the brand is marketed in more than 120 countries. Spain is the world's largest exporter of wine by volume (France is the largest by price). This is classic play—a well made reserva wine that may not soar to the celestial heights of some Rioja reserva and gran reserva efforts, but clearly pegged at a price point the average wine sipper can afford and will enjoy.
Marqués de Cáceres Reserva Rioja DOCA 2014 is a savory example of a tempranillo Rioja blend and an outstanding price-for-value play by a pioneer of Rioja wine importer into U.S. This is another example of the outstanding value of Spanish wines. It is not a simple easy drinker; it is a robust, sophisticated, delicious drinker that is rich in the mouth with dark fruits supported by firm tannins and acidity. Many reviewers note this is classic wine-lamb pairing, and I completely agree. Pair with lamb ribs, rack of lamb, lamb-stuffed bell peppers, lamb chops, lamb lollipops, shepherds pie. Also beef; tapas; roast pork; chorizo; chili con carne; barbecue; roasted game birds; mushroom risotto; blue cheese and other strong cheeses. $18-24