Medium salmon color; roses, delicate flowers, black pepper on the nose; orange zest, citrus, raspberry, white peach on the palate.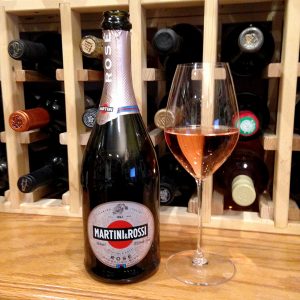 Extra dry (hints of sweetness—slightly more residual sugar than brut); blend of riesling Italico, chardonnay, glera, nebbiolo. Very easy drinker with good fruit and vigorous perlage. Made to please a wide range of people, including those not really into wine. This is not complex and it is mono-dimensional, but its tingle of sweetness and the clarity of fruit carry the day. A very useful wine for occasions such as weddings, graduations, anniversary bashes where you need a large, affordable supply of celebratory wine that will appeal to range of palates and levels of wine sophistication.
The Martini logo, the single word printed over a large red dot, is associated with vermouth and cocktails (especially Martinis), while their sparkling wines are branded Martini & Rossi. This is made in the Piedmont region of northwestern Italy, where Italian tradition of "spumante"—sparkling—wine dates to the 1850s. Because of the steepness of many vineyards, most of grapes are still harvested by hand. Martini & Rossi makes prosecco in the Veneto region of northeastern Italy, and Martini & Rossi red wines and gin. The company also owns Noilly Prat, a French vermouth company.
The company started in the mid-1800s and was run by three men: businessman Alessandro Martini, winemaker Luigi Rossi, and accountant Teofilo Sola. In 1863 they took the name Martini, Sola & Cia. When they sold the company in 1879, the name changed to Martini & Rossi. The Martini "ball and bar" logo was registered in 1929, and one year later Luigi Rossi's sons took control of the enterprise. The company was restructured as the General Beverage Corporation in 1977 and merged with Bacardi in 1993.
There is some debate over whether the Martini cocktail flows from Martini vermouth in the 1860s or from the 1860s at the Occidental Hotel in San Francisco, where people sipped the drink before taking the evening ferry to the nearby town of Martinez. Both stories could be true, but obviously Martini & Rossi favors the one that claims Alessandro Martini in the etymology. In any event, Martini is very closely associated with vermouth (a wine in which herbs, roots, barks, bitters, and other flavoring has been steeped). The spearhead of the company remains its wide range of vermouth; its sparklings are sidelines, but very wide distribution makes them a rising star in the company and easily found.
Martini & Rossi Rosé Sparkling Wine NV falls into the wedding party niche of wines. It is a solid, pretty, no-offense sparkling at an excellent price—you can get it for less than $10 a bottle when buying by the case. No one should dislike this wine, while it will not send wine aficionados into paroxysms of pleasure. Fathers of the bride will appreciate it especially at check-writing time. Works well as an aperitif. Sparkling wines are among the most versatile food pairings wines in the world; pair this with seafood, crab, shellfish, grilled fish, pork loin, spiced chicken, quiche Lorraine, light salads, light pasta and rice dishes, goat cheese. $12-14
Martini & Rossi website featuring this rosé
Martini & Rossi site with vibrant video