Medium gold color; tropical fruit, bread yeast, green apple, pineapple on the nose; pear, citrus, honey, minerality on the palate.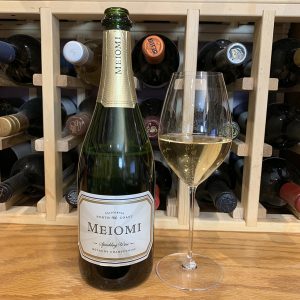 Extra dry (16 g/L), almost dry (which is sweeter, starting at 17 g/L). Excellent acidity (3.17 pH) balances the sweetness. Fruity. Blend of 60% chardonnay, 40% pinot noir. Made using the "traditional method"—méthode champenoise. Sharp and fresh, will particularly appeal to those who like their wine a wee bit on the sweet side. A wee bit. This is not demi-sec or doux.
Meiomi means "coast" in native Wappo and Yuki tribes. Meiomi focuses all its production on fruits from the three costal counties used in this creation—Monterey (acidity and minerality), Sonoma (red fruit and intensity), Santa Barbara (balance and texture). Constellation Brands bought the brand from founder Joe Wagner for $315 million in 2015 (Wagner is the grandson and son of the owners and winemakers of Napa's icon cab, Caymus).
The rap on Meiomi is some of the fruit is second-level of quality to achieve its massive production numbers. The good news of that is very wide availability and lower prices. The downside is this is mass production, commodity wine. Well done for that niche—that is what Meiomi does. With its whiff of sweetness and excellent acidity, no doubt there is a market for this effort—Constellation Brands did not become one of the largest wine and beer companies in the world by not knowing how to play to consumer tastes.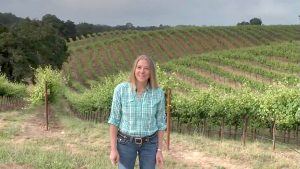 Melissa Stackhouse is the winemaker today. Stackhouse is a well-regarded UC-Davis grad who worked at La Crema, Jackson Family Wines, J Vineyards and Winery, and Clos du Bois. The Meiomi website asserts Stackhouse "creates wines of bold character and harmony—rich and ripe, with expressive depth and taste." I could not argue she does that with reds, but here she demonstrates her versatility by creating a more "feminine" wine. I hope the adjective is taken in the positive way it is intended.
Meiomi Sparkling Wine NV is fresh, zingy, crisp, slightly sweet, traditional method sparkling wine. Exhibits rich flavors and complexity for a mass-production wine. Good choice when you do not want to spend two or three times more money per bottle for Champagne. Pair with oysters; sushi; warm brie; and much more—sparkling pairs with almost everything. It also works as an aperitif and for toasting weddings, graduations, anniversaries. Goes well with popcorn, too, for Netflix/HBO movie night. $25-28