Pale-medium ruby color; cherry, raspberry, blackberry on the nose; cherry, dark plum, raspberry, strawberry jam on the palate.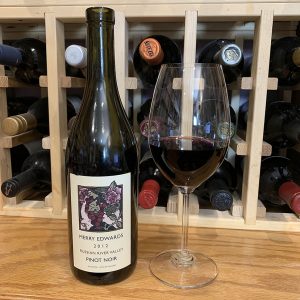 Dry; rich, tasty fruits; weighty in the mouth. Darker and heavier than some of Edwards's other offerings. Reflective of Russian River Valley. This is Edwards's "regional blend"—meaning it came from six different vineyards. Her other offerings are from single vineyards. The single-vineyard bottles enjoy (and earn) considerable acclaim, and cost more. Once the vineyard-designated grapes are composed, the excess grapes go into this label. There is nothing wrong with this effort, especially if you like your pinot noir in the California style, as opposed to the lighter styles of Willamette Valley, Burgundy, or even other Merry Edwards bottlings.
Early reviews of the Merry Edwards effort criticized it for having rawness and too assertive tannins. They advised some bottle age, and thus I put this in the long-term aging rack in my wine refrigerator. Patience paid off. After seven years, the tasty fruit and overall elegance you expect from Merry Edwards is there. Tannins are somewhat tamed, and the acidity balances the wine. Rich, delicious fruit predominates; medium finish; 14.3% ABV
Meredith "Merry" Edwards is Russian River Valley/Sonoma superstar. A Cal-Berkley grad, Merry first studied for her master's in nutrition, then fell in love with wine, then earned her master's in food science with an emphasis in enology (science of viniculture) from Cal-Davis in 1973. She worked her way up the winemaking career ladder, deftly overcoming misogynist obstacles, helping develop wineries, building a consulting career based on her obvious talent.
Merry and her husband, Ken Coopersmith, purchased their first vineyard—Meredith Estate—in 1996, followed by Coopersmith Vineyard in 2001. Now in her fifth decade of winemaking, Merry is celebrated as a pinot noir superstar, inducted in 2013 into the Culinary Institute of America's Vintners Hall of Fame and winner of a James Beard Award for best wine, beer, or spirits professional. Today, female winemakers are in high demand and wildly successful. Merry Edwards blazed the trail.

Merry also is supporter of sustainable vineyard and winery practices. The website notes: "For Ken [her husband] and me, sustainability is a way of life. Thinking long term about the health of our land, and the future of our family, is embedded in all that we do. In fact, in 2017 we became a Certified California Sustainable Winery, and all of our vineyards were certified in the same year."
Merry Edwards Pinot Noir Russian River Valley 2012 is a bottle that needs some time to tame down and integrate. After seven years, this has come together nicely. Better after some age is a hallmark of Merry Edwards wines. Pair with braised short ribs; blackened salmon and other seafood; honey lime baked salmon with mango and black bean salsa; lamb, Mediterranean-style lamb burgers, red wine braised lamb shanks; minestrone stew; portobello mushrooms; yogurt-marinate chicken (recipes for many of these dishes are on the Merry Edwards website). $45-52
Merry Edwards website with rich pages of photos and videos