Medium gold color; honeysuckle, lemon, peach, white flowers on the nose; peach, citrus, apricot, white grapefruit on the palate.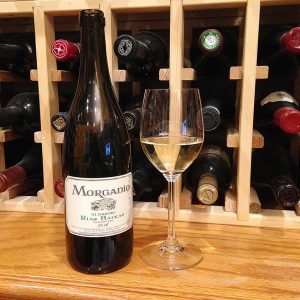 Dry; hint of salinity/minerality you get with albariño, but subdued; the minerality engenders a slight metallic note which at first surprised, but became asset by third sip. Very round and creamy in the mouth. Great food wine.
Rías Baixas DO is one of the leading white wine producing regions in Spain and the only Spanish DO for white wine; albariño wine accounts for some 90% of the vines in Galacia, where the DO is located. Rías Baixas is known for whites in similar way Rioja is famed for Spanish reds. Because Galicia is somewhat isolated, its wines are more similar to Portuguese wines than other wines in Spain. Morgadío is easternmost estate in Rías Baixes, and its distance from the ocean may account for the less salty notes in this wine compared with salt notes you get from vineyards closer to the coast.
Rías Baixas DO, created in 1988, hugs the Spanish border with northern Portugal; the name is Galician for "Lower Rías." A ria is a costal inlet where tides flow into a small river; the word is the same in Spanish/Galician and Portuguese and is related to the Spanish/Portuguese word "rio." The Rías Baixas region includes a series of four estuarine inlets located on the southwestern coast of Galicia. Within Rías Baixas there are three primary subdistricts: El Rosal and Val do Salnés on Galicia's rainy Atlantic coast, and Condado do Tea inland on the north bank of the Miño River, where Margadío is located. Condado/Margadío has benign climate, southern exposure and soil of brilliantly-reflective granite sand serves to maximize albariño's concentration. This wine comes from Condado/Margadío.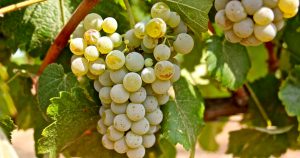 Albariño is a small, thick-skinned grape that resists fungal disease, important because of the heavy rainfall—more than 50 inches a year. The grape is low yielding and expensive to cultivate because of the pergola (parra) system for training vines. Across the Spanish border, literally on the opposite, southern bank of the Minho River, the grape is called alvarinho and is the principal grape used in vinho verde wines; Portuguese also use the grape to make whites similar to this Spanish effort. Spanish and Portuguese efforts are superb alternatives to sauvignon blanc, pairing with the same foods and offering a similar profile while still being different. Some scientists believe albariño is an ancestor of riesling.

The albariño grape is low yielding and expensive to cultivate, which meant it was small production and expensive wine until the 1980s when makers began to focus on lower, higher quality yields and better, cleaner winemaking equipment. Margadío was one of the pioneers in the revival. It was a farm named Morgadío in the Rías Baixas subdistrict of Condado do Tea near the aldea of Albeos in 1984 when it was consolidated from multiple existing owners, and planting began. Vineyard area was gradually expanded to its current 148 acres. Just in time for the 1988 harvest, Grupo Reboreda Morgadío finished a state-of-the-art gravity-flow facility at the bottom of the vineyard amphitheater which includes pneumatic presses and isothermic stainless steel tanks. From the 1996 vintage, the Méndez family of Orense has increased investment in the bodega for maximization of the estate's production, with a current capacity for annual production of 10,000 cases of 100% estate-bottled albariño.
Morgadío Albariño Rías Baixas 2016 is well made and slightly different than albariños made further to the west. Fresh, clean, nicely round, smooth, easy drinker at nice price, touch less salinity. Pair with seafood, shellfish, shrimp gumbo, crab cakes, grilled seabass, grilled sardines, light and creamy cheese, sushi and sashimi. $16-19
Grupo Reboreda Morgadío website, lovely video