Deep ruby color; cherry, chocolate, blueberry on the rich nose; cherry, plum, chocolate, blackberry, raspberry, blue fruits, mocha vanilla, mint on the palate.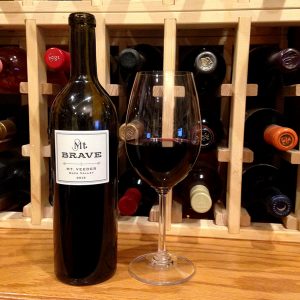 Dry; full body; grippy but not overwrought tannins with very nice balancing acidity (3.56 pH); delightfully well-knit flavors; the tannins persist on the finish, a nice touch. Toasted oak is there but, like the tannins, not overwrought, even with 22 months in 95% in new French oak. Inspiring freshness amid the darker fruit notes. Impressively layered and complex merlot. Gorgeous depth and complexity. Drinking wonderfully now, but this could be cellared for the next decade with great rewards if you have the proper storage and patience. I have the storage; not the patience (and, of course, an audience to serve). 100% merlot, 15% ABV.
This is clear example that the reports of merlot's death are wildly overstated. What may be dead, praise the Lord, is the insipid, pallid efforts of the late last century when merlot was the Next Big Thing, then the movie Sideways hit screens and that merlot deservedly was no longer the Next Big Thing, it was today's passé. Forget that plonk. This is what merlot can be. Elegant. Delicious. Serious. Complex. Remember that right bank Bordeaux, one of the world standards in red wine, is mostly merlot. This effort plays in that league.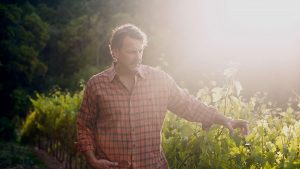 Chris Carpenter is the Mt. Brave's winemaker; he also makes superb merlot for La Jota (and others). Link to my reviews of his La Jota is below. La Jota is on Howell Mountain, just above St. Helena, while Mt. Brave is on Mt. Veeder, which is mostly west of Yountville and northwest of Napa. The common denominator is mountain merlot; Mt. Brave at 1,700 feet and La Jota at 1,825 feet. Both are part of Jackson Family Wines—Kendall-Jackson is the foundation effort, but today they are worldwide, including Australia, Chile, France, Italy, and South Africa.
Chris Carpenter is a major force. From the Mt. Brave website: "For Chris, a founder of the Napa Valley Convivium of Slow Food USA, artful winemaking really means allowing Mt. Veeder to reveal itself in each vintage. Originally from Chicago, Chris has a curious mind meant for exploring. A chance visit to Napa captured his imagination and, ultimately, his heart. His practical side was demonstrated with a BS in biology from the University of Illinois, then an MS in both viticulture and enology from the University of California, Davis. He also holds an MBA in marketing and international business from the University of Illinois.
"Enhancing all this was a prestigious research internship at Tenute Antinori in Tuscany and further study at Università per Stranieri di Perugia. These experiences led to the development of an old world sensibility paired with a new world sense of ambition and insight. Chris makes his home in Napa Valley with his wife and daughters."
Mt. Brave Merlot, Mt. Veeder 2015 is serious wine, seriously delicious, seriously complex, serious wine for food pairing. A signal accomplishment from Napa's Mt. Veeder. Pair with dry-aged ribeye; braised beef short ribs; aged cheddar cheese; grilled hamburgers; mission-style beef stew; lamb; red meats in general. $72-80
YouTube interview with Chris Carpenter