Medium ruby color; cranberry, strawberry, tobacco, vanilla on the nose; cherry, strawberry, raspberry, redcurrant, pomegranate, plum on the palate.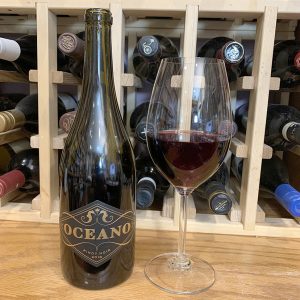 Dry; silky tannins; mild acidity; medium body. Fermented in stainless steel, followed by nine months in large French oak barrels and puncheons. Minimum oak influence. Nicely complex with soft fruitiness and earthy elements. The vineyard is on the southern edge of the Edna Valley, just outside the Edna Valley and Arroyo Grande AVAs. It is the closest vineyard to the Pacific Ocean in California. The strong influence of the ocean and the marine shale, limestone, sandstone, and fossilized-shell soil of the vineyard pumps up the minerality; 13.7% ABV.
Winemakers Rachel Martin and Marbue Marke got out of the way of the vines with this effort, allowing the individualistic vineyard to flaunt itself. Ocean breezes and morning fogs laced with sea spray salt, mineral-infused soils also influenced by Pacific saline, put Oceano in a distinctive niche that must be tasted to fully appreciate. The San Luis Obispo coast has the coolest growing climate and longest growing season in California.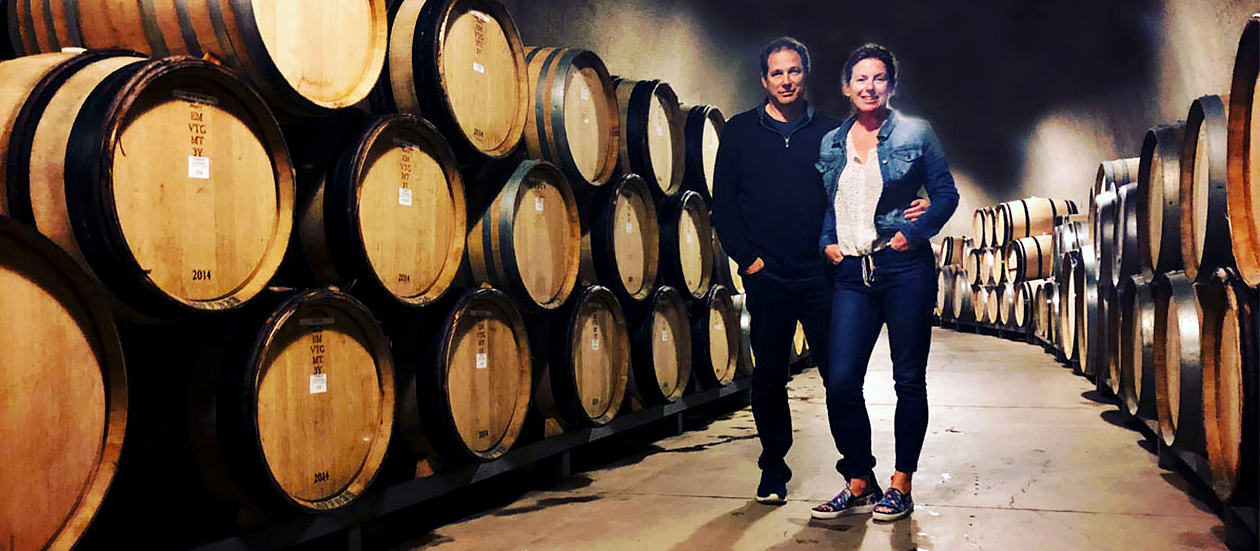 The husband-wife team of Rachel Martin and Kurt Deutsch founded Oceano Wines. They met by chance at a dinner prior to the screening of Deutsch's feature film, "The Last Five Years" in 2014. Wait, let's back up. Rachel Martin grew grapes and produced wines for more than 15 years at her family's vineyard and winery, Boxwood Estate Winery, in Middleburg, Virginia. She and the vineyard/winery are sparkling lights in the burgeoning Virginia wine industry and helped Middleburg secure AVA designation. Led by Rachel, Boxwood is one of Virginia's leading vintners.
Rachel's stepfather is John Kent Cooke, son of the late Jack Kent Cooke, former owner of the Washington Redskins NFL football team. As 60% owner of Oceano, Rachel qualifies the winery as a certified woman-owned business. The Spanish Spring vineyard is SIP (Sustainability in Practice) certified.
Kurt Deutsch career was as far away as you could get from mucking in a vineyard in oppressive heat in Virginia in high summer. During a 15-year career as an actor in movies and television, he developed relationships throughout the entertainment industry. In 2000, Deutsch launched Sh-K-Boom Records to broaden the audience for original Broadway cast and Broadway performers. He won a Grammy. His acting and music producer career is a success.
Then cometh serendipity. Deutsch's father, Gene, enjoyed a relationship with long-time neighbor, Henry Warshaw. Warshaw owns the Spanish Spring Vineyard, the sole source for the fruit that makes Oceano's pinot noir and chardonnay. Rachel met Kurt. Gene met Rachel. The rest is wine history, and you get to taste the intriguing result.
Oceano Pinot Noir Spanish Spring Vineyard, San Luis Obispo County 2018 is a delicate, cool-climate pinot noir from a unique vineyard. It is much less heavy and bombastic than other Central Coast California pinot noirs. Pair with roast chicken with gruyere stuffed under the skin; salmon; pasta dishes, especially with white sauces; charcuterie, ham, and other cold meats; rack of lamb; pork roast with herbs and fennel; roasted or grilled lobster; mushroom risotto. $45-52