Some wine descriptions make sense. Cherry, plum, red fruit, black fruit for red wines. Apple, peach, citrus for whites.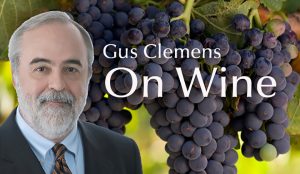 Grapes are not apples, cherries, peaches, plums or citrus, but you grasp connection.
Set yourself up as wine writer, and you are paid to pull more out of your thesauri collection; otherwise you are just a bloviating bloke at the wine bar.
Wine-writing pros strive to entertain and amuse by flaunting vocabularies and conjuring memorable language riffs. We risk baffling in the effort.
Do you know anyone who embraces "cat pee" or "petrol" or "barnyard" as a positive? Wine writers regularly employ these terms.
Work at it and you can sniff "cat pee" in sauvignon blanc. The aroma comes from natural sulfur compound: p-mentha-8-thiol-3-one. A little less of the compound and smell is lantana bush; a little more and smell is blackcurrants; just right and it is kitty urine. Hmm.
"Petrol" seems more appropriate to truck stops than wine, but you can sniff its suggestion in riesling. Aroma comes from antioxident TDN, which evolves from beta carotene and lutein molecules, but would you savor a review ladened with that sort of scientific exactitude? Exactly.
"Barnyard" is associated with some of Burgundy's best, but there is tipping point when barnyard goes from signal of terroir and quality, to—well—stuff you sniff in steaming piles in a barnyard. Trust your favorite wine writer to mark that epiphanic moment.
Wine is fun. Create your own descriptors. Not as easy as it seems, heh?
Tasting notes:
• Kitchen Sink Red Wine NV. Big plum, black fruit; tart, low acidity, medium body; zin-merlot-cab-petite sirah; easy drinking, good value play. $8
• Meridian Chardonnay 2009. OK acidity, tropical fruit, grapefruit, green apple; plays well with food; simple, very drinkable no-oak Cal chard. $8
• Alvaro Palacios Camins del Priorat 2007. Intriguing lavender-mineral nose; raspberry; supple tannins, finesse finish; great Spain value; carinena, garnacha, cab-syrah. $24
Last round: You want to know more about wine? Throw away expert notes and vintage charts. Buy a corkscrew. Best way to learn about wine is by drinking wine.