Deep ruby-purple color; cherry, plum, leather on the nose; black cherry, blackberry, leather, tobacco, plum on the palate.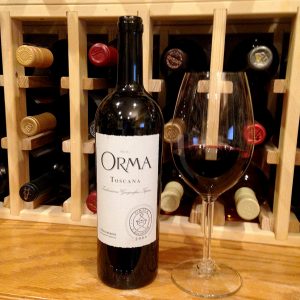 Dry; chewy in the mouth, dusty-velvety tannins that significantly contribute to the overall presentation in the mouth. This is a celebrated wine—94 Wine Enthusiast, 92 Wine Spectator, 95 James Suckling; 93-94 Parker (later vintages). I am not a wine score guy, but this avalanche of monster scores cannot be ignored. This is very good wine, clearly flirting with great according to the most respected wine tasters in the world. That counts for something.
The grapes come from vineyards of Bolgheri, a tiny region in Livorno (on the Mediterranean coast, west of Florence, just south of Pisa) with gently sloping hills and deep soil of pebble, clay, and a little sand. The nearby Mediterranean tempers the inland heat in summer and softens the cold in winter. Terroir and right grapes; the formula for success everywhere on the planet when it comes to wine. That generates the soft deliciousness of this effort.
This is Super Tuscan blend of 50% merlot, 30% cabernet sauvignon, 20% cabernet franc put together by owner Antonio Moretti. France is wonderful, Napa is world-class, Spain is spectacular (especially for value), Italy delivers so many incredible wines on so many levels—and this is one of those levels. It is marvelous for us to live in this era of the availability of the greatest wines in the history of the world.
Orma Toscana 2009 is a must-taste for any ardent wine lover, especially one who favors the softness and subtleness of merlot over the assertiveness of cab. You get both with this bottle, but it is much more like a right-bank Bordeaux than a left-bank effort. You can sip this solo or with neutral wine crackers and a cheese cube or two, or pair with lighter, leaner red meats, lamb, salmon, grilled tuna garnished with olives, mushrooms and herbs, roast duck, burgers, macaroni and cheese, cheddar cheese $65-85