Deep ruby color; cherry, dark fruit, bramble, licorice on the nose; cherry, blackberry, strawberry, plum, raspberry, sweet oak, smoke, leather, spice on the palate.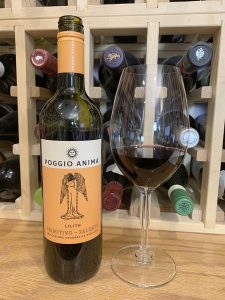 Dry; earthy wine with medium, dusty tannins and very moderate acidity. Soft and smooth. Medium-plus body. Grapes were de-stemmed and gently crushed, then fermented in stainless steel. A small percent underwent rotofermentation—a technique that uses a rotating tank to mix the cap and grape must to extract color, tannins, and flavor. Poggio Anima says they did this to soften the "sweet & sour" notes that can be found in their primitivo. After primary fermentation, there was extended maceration for three weeks, then wine racked in 15% new French barriques for malolactic fermentation. Seven month aging in barrel followed. 14.9% ABV
DNA testing has determined primitivo is basically the same grape known as zinfandel in the U.S. and crljenak kaštelanski in Croatia. Same grape, but wine presents differently in the different locations. This comes from Puglia, in the boot of Italy, which is where Italian primitivo/zinfandel grows. Very mouth-friendly wine. Lush and inviting. Easy drinker—its unguent texture and mouthfeel will be a welcomed feature for some, a lack of defining character for others. This will not offend anyone, which is a mixed characterization for a wine.
The website explains the winery's mission: "Poggio Anima is a joint venture between one of Tuscany's rising stars, Riccardo Campinoti of Le Ragnaie in Montalcino and his U.S.A. importer Ronnie Sanders of Vine Street Imports. The idea is straightforward: to source great vineyards from existing relationships and produce a real wine that conveys a place and a grape. These wines are not bulk wines or leftover juice from a winery; instead, they are the result of long-standing relationships with reputable and respected growers throughout Italy."
Poggio Anima Lilith Primitivo Salento IGT 2019 is juicy, smooth, easy drinking "weekday wine." Primitivo is the Italian grape known as zinfandel in the U.S. and they taste similar but not precisely the same—more strawberry and leather here. Same relaxed tannins and easy-going acidity. Pair with beef—barbecue, ribs, bacon-wrapped tenderloin, burgers and sliders; pasta dishes with tomato sauces and meat; roast lamb; poultry, grilled chicken; pulled pork, pork chops; blackened salmon; wild game, venison; charcuterie board; anything that pairs with zinfandel, except this is dialed back in intensity from what you usually get from California. Sheep and goat cheese, manteca, caciocavallo podolico (cows milk) cheese. $12-14
Poggio Anima's website does not contain useable photos.