Ponzi Vineyards Pinot Noir Rosé Willamette Valley 2017: Deep salmon color; candied orange peel, strawberry, crushed rose petals and other flowers on the nose; strawberry, red watermelon, lime-lemon, mandarin orange on the palate.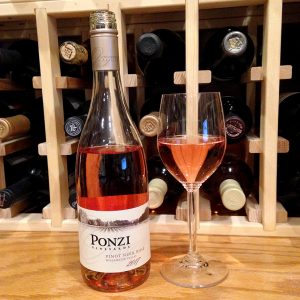 Dry (3.0 g/L RS); excellent acidity (3.29 pH); vivid, fresh fruit flavor. Fresh, bright. A pleasure to look at and to sip. This is 100% pinot noir grapes grown at high elevation sites. The majority of the juice fermented in stainless steel with malolactic suppressed to preserve the bright fruit character; a portion fermented in neutral French oak and underwent malolactic fermentation to add creaminess to the mid-palate.
By 1989, Robert Parker noted: "Ponzi continues to make Oregon's most complex Pinot Noir" and likened the wines to the great wines of Burgundy. In 1993, daughter Louisa Ponzi returned from post-graduate enological studies in Beaune, France, after receiving the certificate Brevet Professionnel D'Oenologie et Viticulture, the first American woman to earn the prestigious distinction. She became the winery's lead winemaker the same year. Mom and dad must have been proud while wine lovers are deeply grateful.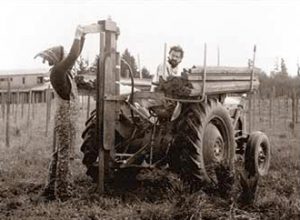 Luisa Ponzi is an example of how women are now some of the premier winemakers in the world. In part, it is biology—statistically women are more likely to have superior noses to men and more taste receptors than men, plus they can multitask more effectively than men. Freed from gender discrimination, women winemakers rise to the top of the profession and produce sophisticated delights. Luisa is more than a giant in Oregon winemaking, she is force in the entire wine world. She and her sister, Maria (director of sales and marketing) became the owners and operators of Ponzi in 2012, making Ponzi one of America's few sister-run wineries. May the sisterhood of wine continue to increase.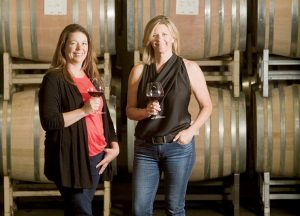 Ponzi Vineyards Pinot Noir Rosé Willamette Valley 2017 is fruit-forward, wonderfully expressive of a pinot noir rosé. Luisa Ponzi consistently delivers quality and is second generation of reasons the Willamette Valley is in the conversation as one of the world's great wine regions. This reinforces that reputation. Superb acidity makes this an easy wine to pair with food—light salads, light pasta, seafood, shellfish, grilled fish, rice dishes, goat cheeses. $22-23