Medium yellow color; citrus, mango, hint of lavender and grass on the nose; grapefruit, pineapple, lemon, lemon grass, white peach, vanilla hint on the palate.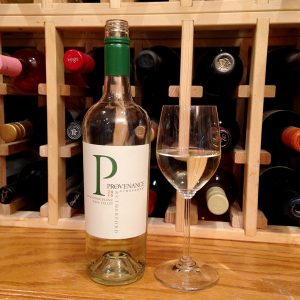 Dry to off-dry, ripe fruitiness makes it hard to tell. Decent acidity, but not the knife-on-tongue you can get from New Zealand. There is no pH number on the website or label. Made mostly of sauv blanc with dashes of semillon (5%) and muscat (1%)—likely where the sweetness comes in, but it is minimal. Full bodied, especially for a sauv blanc. Some welcome tanginess on the finish to complement the initial fruity assault.
According to the winemaker: "We pressed the grapes in whole clusters and then fermented the juice in a combination of stainless steel tanks (60 percent) and small barrels (40 percent). The tank-fermented wine captured Sauvignon Blanc's lively fruit expression, while the barrel-fermented portion gave the wine greater lees contact during sur lie aging. Most of the barrels were stainless steel, however we fermented seven percent of the wine in new French oak barrels for complexity. Stirring (bâtonnage) during six months of sur lie aging developed the wine's silky texture."
Provenance is a Treasury Wine Estates brand. Treasury focuses on main chance with everyday consumers, and this wine hits their target. Australian-based, Treasury is a major international player in the wine world, making wine in 12 countries, selling more than 35 million cases of wine a year, generating more than $2 billion in sales. Treasury tends to focus on commodity wines sold in supermarkets and mass-market liquor-beer-wine stores. Labels you may recognize include Sterling Vineyards, Stags' Leap (not to be confused with Stag's Leap of Judgment of Paris fame—note the possessive placements), Beaulieu Vineyard, Beringer, Chateau St. Jean, Greg Norman Estates, Lindeman's, Wolf Blass, and their flagship—Penfolds.
Provenance Vineyards Sauvignon Blanc Rutherford 2016 is not a vividly dry, cut-grass sauv blanc of New Zealand. It is the much riper, fruitier, rounder, plump version often found in California. Compare the two styles, you may like them both because they are different wines—same grape, different places and winery decisions. With its exuberantly lush, plush, big fruit flavors, this could work as an aperitif or to drink on its own during your book club meeting. Not as versatile with food as the NZ efforts—but NZ wines are not as much fun just sipping without food. Still, this is sauv blanc, one of the most versatile food wines, and you can easily pair with spicy Asian-style seafood dishes; Mexican food; grilled fish and other seafood, including lobster, shrimp, crab, scallops, snapper. Spicy foods do well with either style of sauv blanc. $19-25