Deep ruby color; red fruits, redcurrant, cedar on the nose; cherry, plum, redcurrant, red fruits on the palate.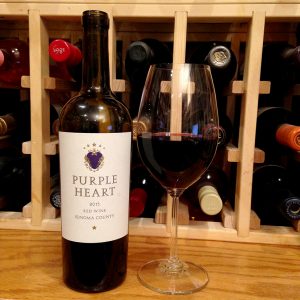 Dry; medium body; extremely soft, velvety, pleasing in the mouth. Very tame tannins and nice acidity (3.46 PH). This is built to be drinker-friendly with ripe, melange of red fruits—67% merlot, 19% zinfandel, 8% petit verdot, 6% cabernet franc—the blend changes with vintages. Crowd pleaser, no doubt. Same time, does not have unique distinction beyond it is delicious, pleasuring Sonoma fruit. Fun to drink rather than serious wine; the 14.2% ABV helps.
I am always cautious when the wine touts its gimmick rather than what is in the bottle. The website notes: "The Purple Heart – No honor better symbolizes the bravery, determination and selflessness of the military men and women serving our country. Inspired by this most noble medal, and in tribute to the late Peter Mondavi Sr.—a proud World War II veteran—his sons, Marc and Peter Jr., challenged veteran winemaker John Moynier to craft an exceptional red wine worthy of its iconic title. The wine serves as a testament to the integrity and virtue of the Purple Heart Foundation, and aims to further the organization's cause through both awareness and fundraising. To this end, Purple Heart Wines proudly makes an annual donation to the Foundation, which goes toward serving the unmet needs of military men, women and families."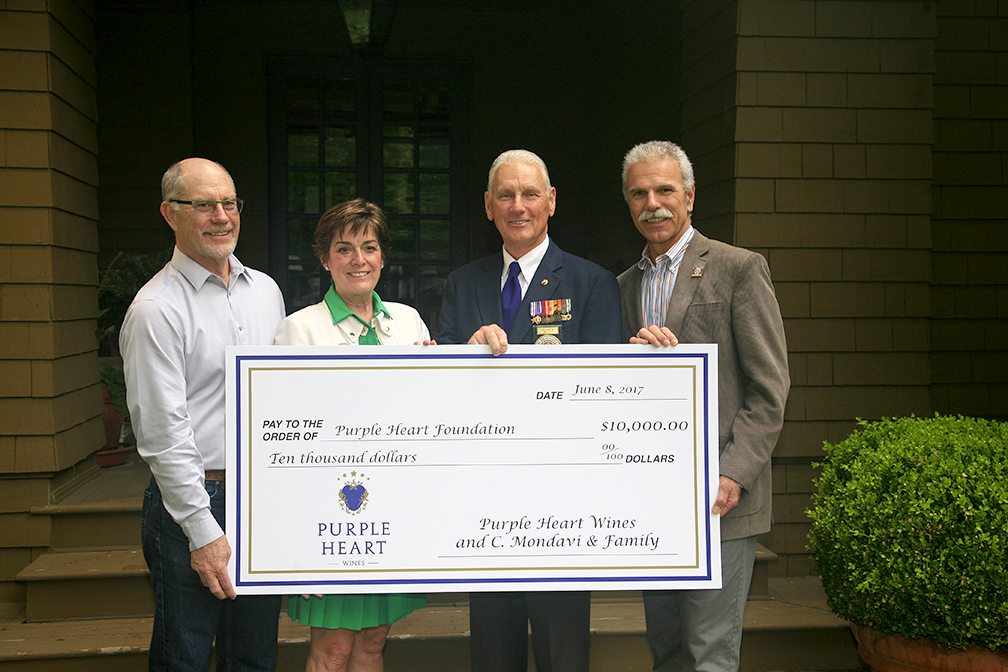 I have long been an admirer of Peter-Marc-Peter Jr. wines, and I admire this for both its crowd-pleasing market target and its patriot support backstory. Winemaker John Moynier is a USAF veteran—1968-1972. He also is a graduate of the UC Davis Fermentation Science program. He has made wines at C. Mondavi Family for more than 30 years.
Purple Heart Red Wine Sonoma County 2015 is very tasty, easily slurping, wine that is delicious and fun rather than serious complexity and depth. Hey, that is what I want to drink more than sometimes. The Sonoma red fruit is excellent. Swallow it for what it is, and if there is a patriot angle, good for them. Pairing with usual red wine subjects—red meat, burgers and sliders, pizza, lamb, pork tenderloin, et al. But this really shines as something to sip solo with neutral wine crackers and chunks of cheese while sharing war stories or toasting the heroes who created the stories.$18-20
Video about Krug Winery, Mondavi family story