Pale straw color; pear, citrus, apple, white peach, herbaceous, white flowers notes on the nose; lemon-lime, grapefruit, pineapple, green apple, minerls on the palate.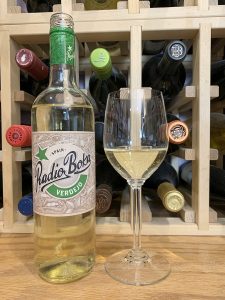 Dry, approaching off-dry; tartness and slight bitterness, which is characteristic of verdejo. Adequate acidity (3.48), no oak or tannins. Light-medium body. Overall smooth texture, especially after some air exposure. 12.5% ABV
There are no photos of bucolic vineyards or canyons of stainless steel fermentation tanks on the website. Nor descriptions of the winery owners or the winery corporation. Radio Boka promotes itself as a hip, lifestyle wine.
Hammeken Cellars is the company behind this brand. They are open about their approach on their website: "We are a modern and innovative producer of Spanish wines, with a portfolio focused on branded products developed through the understanding of consumers' needs." They have a dark red tempranillo, by the way, named "El Gringo." Another: "I'm Your Organic Red." Hammeken knows its market; they export more than 1.5 million cases of Spanish wines a year to more than 30 countries.

Hammeken provides its vision of Radio Boka on its website: "Radio Boka is more than just a wine. It's an attitude, a lifestyle, where friendship and the passion for music meet. You enjoy them with the people you love. It's about excitement, joy, crazyness, but also about enjoying the here and now, and uncomplicated moments. We won't tell you how or when you should drink Radio Boka – but we will tell you you should ENJOY it, SHARE it and LIVE it to the max. This is what life is about, after all…"

Radio Boka Verdejo 2021 is generic verdejo; simple, somewhat muted flavors, but verdejo tartness carries it. There is no question about QPR—this typically sells for under $10. Can work as an aperitif or well chilled and sipped by itself around pool, patio, deck, picnic. Pair with Asian cuisine; seafood, fish, shellfish; tomato soup and tapas; barbecue chicken; chicken fajitas, sausage. Cheese—light cheeses, goat cheese—especially herbed goat cheese; nutty parmesan, smoked cheddar. $7-10