Deep garnet color; cherry, sun-dried tomato on the nose; rich cherry, roasted tomato, balsamic, ripe red plum, strawberry, chocolate on the palate.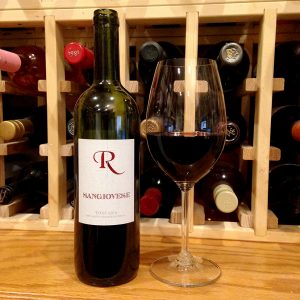 Dry; after dozen years this is lively with expressive, round, rich, delicious fruit, mostly cherry; bottle decanted, tannins were gentle but firm on the finish; good acidity; medium body; 14.5% ABV. Smooth and delicious with vivid red fruit. Fermented on the skins under temperature control for 22 days. Spent 12 months in barrique, 40% new. Then further finished in stainless steel. Winery is in the commune (municipality) of Suvereto, about 56 miles southwest of Florence.
It seems this 100% sangiovese may only have been produced in 2006, 2007, and 2009. Veronelli, a respected Italian wine guide, gave this vintage 94 points. Later vintages included Bordeaux wine blends, turning it into a Super Tuscan effort. Because of the age of this bottle and relative obscurity of the maker, information is sketchy. It seems the winery was founded in 2001. Harvest is done by hand when grapes are fully ripe—no question about that with this effort. Individual blocks are fermented separately to evoke terroir.
It is unlikely you can buy this wine today. I could not find the winery's website, and after a dozen years it is improbable a wine store, or even a well-stocked restaurant cellar still holds bottles. I pulled this from one of the long lay-down shelves in my wine refrigerator to see how it tastes and explore aged wine. This presented a gorgeous, expressive fruit still, a sign of quality, that gave it a fruity sweetness element, although sangiovese definitely is not a sweet wine.
Decanted because there was some sediment in the bottle, although minimal. I took one sip prior to the decanting, and the decanting smoothed things out even more. As readers know, I am a big fan of decanting to bring out the best in wines, especially reds, but it works on some whites and rosé wines, too. If you don't find this vintage, you can give a newer Renicci effort a try and likely not be disappointed.
Sangiovese is the most-planted wine grape in Italy and the core of Chianti. High acidity allows it to pair with many foods, including rich and spicy ones. The tomato element in its flavor profile helps it to pair with tomato sauces and not get overwhelmed.
Renicci di Stefano Cialli Sangiovese Toscana 2007 remains delicious and vibrant after a dozen years. Delightful expression of pure sangiovese. The maker is worth discovering for their latest efforts. Pair with beef dishes—flamed ribeye, T-bones, meat roasts, beef stew; lamb; veal; cured meats; barbecued sausage; pasta dishes with tomato sauces; most Italian foods, spaghetti and meatballs; ravioli alla marinara; roasted vegetables and vegetarian pizza; hard cheese. $40-45
I could not find this winery's website.