Pale garnet color; cherry, pomegranate, red fruits on the nose; cherry, cherry jam, strawberry, raspberry, pomegranate, watermelon on the palate.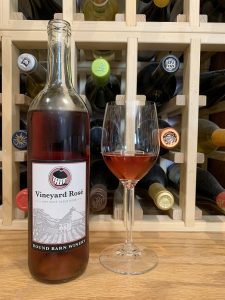 Dry; faint tannins, good acidity. Red fruits, particularly cherry, dominate this intensely vivid red rosé from Buchanan, Michigan. Bend of 85% pinot meunier, 15% hybrid blend. 12% ABV
Round Barn Winery is connected to another noted and nearby Michigan winery—Tabor Hill. Round Barn will treat you so many ways you will have to like at least one of them. In addition to wine, they make beer and spirits. The winery hosts live music and other events. As you might imagine, its Amish round barn at its estate location is the central attraction.
You may not link Michigan and wine, but Michigan is the sixth-largest wine producer in the U.S., nudging ahead of North Carolina, Virginia, Illinois, and Pennsylvania. Each of the five states produces in the 2.1-to-2.8 million gallons of wine range. By comparison, California produced some 685 million gallons, Washington State 35-plus million gallons, New York 28.5 million gallons, Oregon some 11 million gallons, Texas more than 4 million gallons. Still, you can find interesting wine everywhere. Michigan is one of those places.
Round Barn and Tabor Hill are part of the Moersch Hospitality Group. The website notes: "The story begins with our pioneers, Rick and Sherrie Moersch, college sweethearts and school teachers. After Rick was sought out to run the wine lab at Tabor Hill Winery, they fell in love with the vintner life. It wasn't long before Rick and Sherrie purchased a 28-acre farm right next door where they planted. They then grew and sold grapes to Tabor Hill. Years later, they opened their own winery, Heart of the Vineyard."

In 1997 they purchased an Amish round barn which became the Round Barn Winery. Next came Free Run Cellars in 2006, then the Round Barn Brewery & Public House in Baroda. Finally, in 2017, they returned to their beginnings and purchased Tabor Hill and all its properties.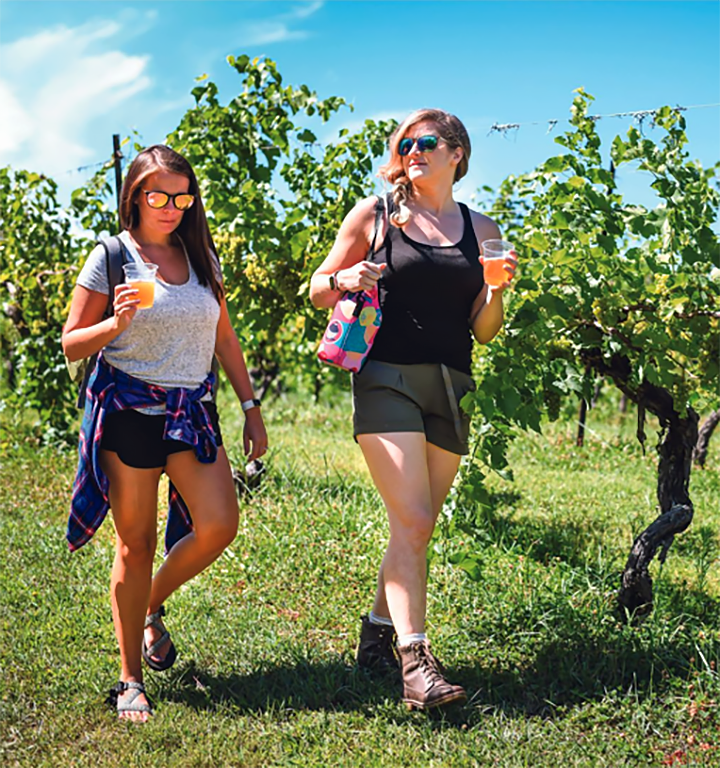 Round Barn Winery Vineyard Rosé NV is fresh, floral, and very cherry fruity in taste and color. Light in the mouth and light in alcohol, it is a natural summer sipper. Its striking garnet color will make it a point of conversation at your table or event, as will the fact it is a Michigan wine. With its dramatic dark rosé and fruitiness, works as an aperitif. Pair with light pasta or rice dishes; seafood; grilled fish; ham; light salads and vegetarian fare. Cheese—comte, taleggio, camembert, provolone, brie; if it goes well with pinot noir, it will go well with this pinot meunier (which is very similar to pinot noir). $17