Medium purple color; plum, violets on the nose; red plum, blackberry, tart cherry, chocolate, vanilla, leather on the palate.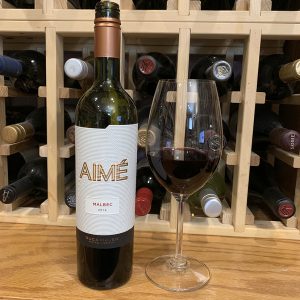 Dry; gentle tannins and acidity. Medium body with some of the plushness you expect from Argentine malbec, but with a tart cherry kicker. Very little oak—at this price point there is little barrel aging, allowing the red fruits to stand out. Fresh and juicy; 3.66 pH; 13% ABV.
This is a simple value play, so don't expect depth and complexity, but it is a nice value-for-price. You likely can get this for less than $10, especially if you buy six or more bottles.
The romantic "Ruca Malen" winery name comes from a Mendoza legend. Love between gods and mortals was forbidden, which caused Mapuche women to look down out of fear of meeting a god's fierce gaze. One day the most daring Mapuche woman, however, walked with her head raised, and when she encountered a god she met the god's gaze without fear and instantly fell in love. The god, touched by her love and courage, offered the woman an elixir to join him as an eternal being. In return, she gave him a home, "the young girl's house"—Ruca Malen—so they could be together and create a new lineage of legendary gods.
In real life, there are two stories going on here: Bodega Ruca Malen, a quality Mendoza maker ("Modern, nicely crafted wines designed for the table, easy to drink"—Luis Gutiérrez/The Wine Advocate), and the U.S. importer, Hubert Opici, a legend in the wine world who died in 2018 at age 102. Wine Enthusiast Magazine named him an "America Wine Legend" in 2014.
I've included links to the winery website and Opici's website, a charming Opici's website video, and a link to a great interview by Gary Vanerchuk with Hubert Opici. If you are deep into the wine weeds, you will enjoy the websites and videos. The fourth generation of the Opici family manages the import operation today.
The Ruca Malen winery traces its roots to 1998 when Jean Pierre Thibaud and Jacques Louis de Montalembert decided to build a winery in Mendoza. In the charming English translation description on the winery's website, the two "confessed to each other the desire to build their own winery." Thibaud was leaving the presidency of Chandon Winery Argentina after 10 years and Montalembert had experience in Burgundy. Their first harvest was in 1999.
Ruca Malen Aimé Malbec 2016 is a simple, entry-level Mendoza malbec. Straightforward with a taste profile you expect—plum, blackberry, tart cherry—from this type of malbec. Easy drinker, especially after some air calms down the tartness and allows the chocolate to come through on the finish. Pair with burger; barbecue chicken; pizza; beef empanada. $9-12
Vanerchuk interview with Hubert Opici