Deep pink-copper color; strawberry and roses on the nose; strawberry, honeydew melon, cranberry, red apple on the palate.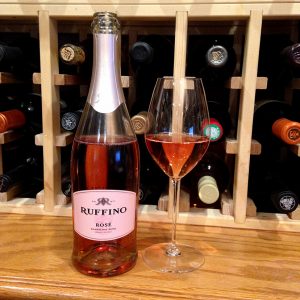 Extra dry (some sweetness, more residual sugar than brut, less residual sugar than dry); consistent perlage. Mostly glera grapes (the grapes that make Prosecco) with small amount of pinot noir to achieve the color. The glera and pinot noir ferment apart, then the still wines are blended to achieve color and flavor profile. This blending method is standard in Champagne, but blending to make rosé is prohibited in European Union rules for PDOs (Protected Designation of Origin).
The second fermentation occurred in tank—the Charmat method—and lasted about a month. The Charmat method emphasizes fresh, fruity, fragrant qualities, and that can be found in this effort. It is different from the "Champagne method" or "méthode clasique" where the second fermentation occurs in the bottle. BTW, the Champagne method used to be called "méthode champenoise", but that designation no longer is permitted under EU rules.
The Charmat method used here, also called "metodo mertinotti", was developed and patented in 1895 by Italian Frederico Martinotti, then improved by inventor Eugène Charmat in 1907. Charmat allows for the production of sparkling wine at significantly lower price and is common method for Prosecco and in Asti province wines.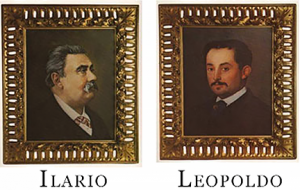 The Ruffino story begins in the Tuscan town of Pontassieve, near Florence, and a small winery established by cousins Ilario and Leopoldo Ruffino in 1877; by the 1880s, they were winning awards; by the 1960s Ruffino sold wines in more than 100 countries.
Primarily known for their reds, particularly Chiantis and Super Tuscans, Ruffino recently moved into sparklings—making Moscato d'Asti in northwestern Italy's Piedmont region and Prosecco and this rosé in Italy's northeastern Veneto region. They brought their attention to detail and focus on quality grapes to their sparklings, also a dedication for allowing the land and grapes to speak with minimal intervention in both the growing and winemaking. Today, ownership by Constellation Brands (a purchase completed in 2011) means this is widely available. Constellation is the world's leading premium wine company.
Ruffino Rosé Sparkling Wine has good acidity and crisp red fruits presentation at excellent price point. With its charming color and 11% ABV, this will serve well as an aperitif served cold—less than 50 degrees. It will pair well grilled fish, rotisserie chicken, fresh salads. Heck, sparkling rosé pairs with almost anything—lighter meats such as pork loin, unsweetened strawberries served plain with a little sugar, garden salads, mildly spiced curries and rice dishes. It also works as an ingredient in cocktails—Frozé Rosé, Always Sparkling, Tuscan Rosé, The Ballagio, Top of the Day. Visit the Ruffino website (link below) for the recipes. $12-13