Deep yellow color; lemon, brioche on the nose; lemon, baked bread, citrus, yellow apple, minerality-saline on the palate.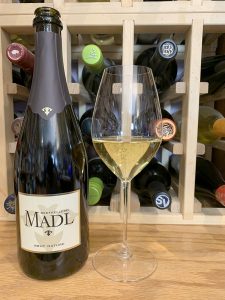 Brut—brut nature means there is no added sugar; it is the driest style of sparkling wine. Wine is 100% grüner veltliner, Austria's most important grape. All grapes are hand-picked. First fermentation in stainless steel. Classic method of making sparkling—sekt in Germany and Austria—with second fermentation in the bottle. For sekt, here is a minimum of nine months on the lees—spent yeast cells—for a creamier mouthfeel, more subtle character and dimensions, and finer bubbles. This apparently spent three years for the second fermentation.
There are welcomed rustic elements to this wine that goes well with the commanding bread yeast and brioche elements. Very, very persistent bubbles. In this effort, no sugar is added after riddling and disgorgement, making this the driest sparkling wine possible. 12% ABV
Christie's World Encyclopedia notes: "In every corner of the world there are some small producers super passionate about producing top-quality sparkling wine. Young Christian Madl is one of them, fighting to build the reputation and quality of Austrian bubbles.
"Madl was stung by the sparkling wine bee a long time ago, when he was a stagiaire at Raumland, one of Germany's premier fizz producers. Since then he has worked for periods at Champagne Sanger in Avize, as well as at Poll Fabaire in Luxembourg, gaining different views of fizz making. After returning to Austria Christian soon separated from his father's and brother's winery to start making sparkling wines in his own style, adopting the Champagne codex as his guideline.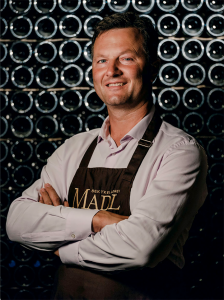 "His part of Weinviertel is reputed to be the best area for producing sparkling wine in Austria, and since 2002 he has improved and fine-tuned his winemaking with promising results. The mousse in Christian's wines is perhaps the finest in Austria, being extremely creamy and soft. He is one of the rare winemakers in the country who understands the style of base wine needed for great traditional-method wines, as he seeks not concentration, but freshness and finesse…"
Sektkellerei Madl Brut Nature NV is ultimate bubbly dryness. Brioche and bread notes dominate this pure Grüner veltliner play. Extended umami finish adds to its interest. Works as a very dry aperitif; pair with light meats—tarragon chicken, sashimi; fish; with this dryness and acidity, will complement almost any lighter fare. Cheese—dry jack; sheep-milk feta, chevre, bucheron, garrotxa, gouda, havarti, mahon, pave affinois, raclette, taleggio. Any cheese that pairs with riesling.