This is a different format from my usual tasting notes. VinsAlsace organized a series of virtual tastings with wine professionals around the world. In the first session, four white wines from the Sipp Mack winery were tasted.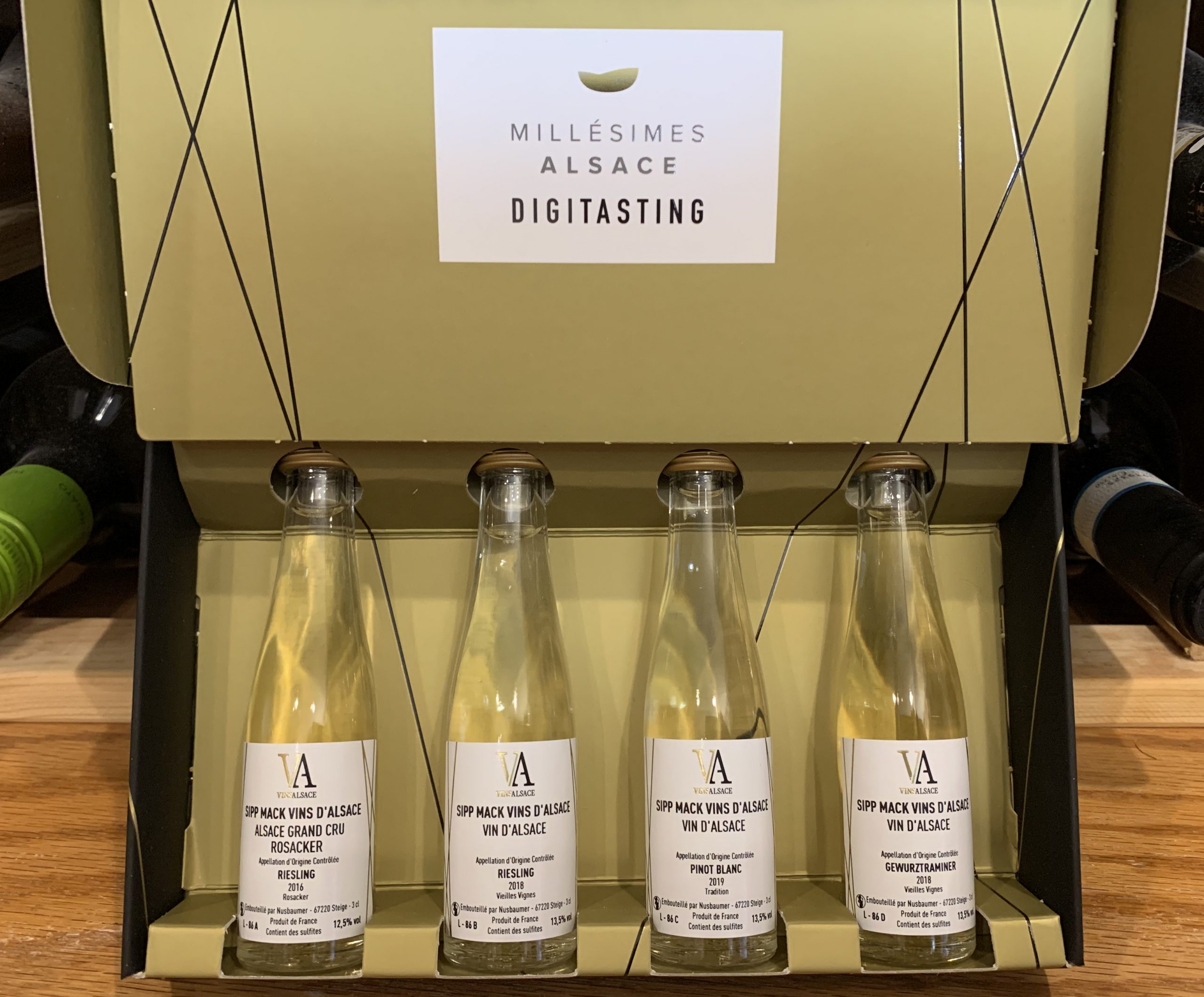 There are four more such tastings—the Salon Millésimes Alsace DigiTasting®—scheduled, each with four wines from individual wineries in Alsace. I could not attend the sessions live, but I did watch the videos and have tasted the wines. Reviews of the first four samples follow.
Sipp Mack Vins D'Alsace Gewurztraminer Vieilles Vignes 2018: Pale gold color; lycee, spice, rose on the nose; honey, mango, peach, lemon on the palate. Medium sweet (35 g/L residual sugar), balancing acidity (3.7 pH). Medium body, silky mouthfeel that plays well with the distinct honey flavor. 13.5% ABV. Rich and sweet, but not cloying or overwhelming; 100% gewürztraminer. Works as an aperitif, also with spicy dishes—curry and Thai food; strong cheeses; fruit desserts. $27-32
Sipp Mack Vins d'Alsace Pinot Blanc Tradition 2019: Very pale gold color; peach, grapefruit, white flowers on the nose; grapefruit, peach, lemon, pear, minerals on the palate. Dry; good acidity (3.3 pH). 13.5% ABV. Light, round in the mouth; 100% pinot blanc. Pair with pork; rich fish; spicy food; poultry; quiche; goat cheese, mild, soft cheese. $15-20
Sipp Mack Vins d'Alsace Riesling Vieilles Vignes 2018: Pale straw color; lime, white flowers, petrol on faint nose; lemon-lime, green apple, beeswax, minerals, hint of honey on the palate. Dry; superb acidity (3.1 pH). Concentrated, fresh. Nice smoothness and finesse in the mouth. Supple. 12.5% ABV. Pair with pork; rich fish; spicy food; cured meat; charcuterie board; vegetarian fare. $20
Sipp Mack Vins d'Alsace Riesling Grand Cru Rosacker 2016: Pale gold color; citrus on the nose; green apple, tangerine, citrus, peach, pear, salinity on the palate. Dry; nice acidity (3.2 pH). Generous with concentrated ripe fruits. Smooth, round, fresh in the mouth. Long, nicely complex finish. 100% organically grown riesling grapes.12.5% ABV. Rosacker is an east-southeast facing grand cru vineyard at around 1,000-foot elevation. Pair with white meats in cream sauces; fish; shrimp and crab. $40-50

The Sipp Mack winery—Sipp Mack is the family name—is located at the top of Hunawihr, a picturesque village nestled along the Vosges foothills between Riquewihr and Ribeauvillé, west of the Rhine River. The family winery is run by Jacques and Laura Sipp and their daughter, Carolyn. As the 10th generation of winemakers, they bring an environmentally sound vision to vineyard farming and winery operations. They organically farm their almost 60 acres. The soils are varied but essentially calcareous clay.