Deep gold color; lemon, apricot, orange blossoms on the nose; Meyer lemon, apricot, pear, orange, honey, nutty note on the palate.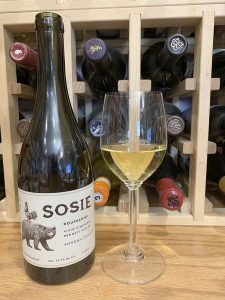 Dry; no tannins, moderate crisp acidity, balanced. Medium-plus body. Rich and full in the mouth. Aged 15 months in 20% new oak, followed by five months in stainless steel. Roussanne responds well to oak and delivers a luxuriant white with velvety depth augmented by beeswax mouthfeel. This checks all those varietal boxes. 14.7% ABV
This vintage almost did not make it to bottle. The harvest was just two days before the Tubbs/Nunns Canyon fire in Sonoma. The winery was able to foot-press as normal, but the fires restricted access to the winery and fermentation occurred in tank instead of the anticipated barrel fermentation. As happened in many wine operations, the fruit was safely in the winery before the fires came. The challenges came in the winery as access to the facility and staff dealing with the fires, in some cases loss of their homes presented enormous challenges. Sosie persevered and delivered 230 cases of this rich wine.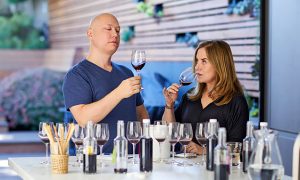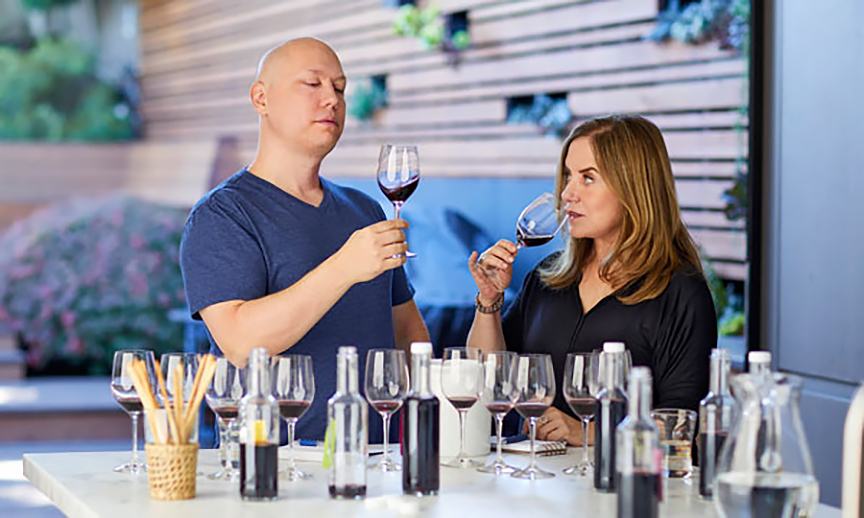 The Sosie website explains the mission of its principals Scott and Regina Bustamante MacFiggen and the winery name: "When we got into this business, it was with the conviction that our wines would stand for something. That they would not just have a style, but a purpose. We were going to craft our wines to be food-friendly. So: lower in alcohol, higher in acid, structured and layered and made in small batches with minimal intervention and the lightest touch of oak. What name might convey all that?
"We went round and round until we ran out of ideas. So we hired a writer and gave him a brief: New world wines for old world palates. He gave us 50 names, about half of them French. This made our heads swim. But when we evaluated them based what the words mean, how they sound, how distinctive they are, Sosie (so-zee) rose to the top. It's French for 'twin or spitting image,' which neatly summarized our winemaking aspiration. The fact that it sailed through the trademark gauntlet proved just how original it was." The bear represents California (the Golden Bear is that state's symbol), the rooster (coq) is France's national symbol.
Sosie Roussanne Vivio Vineyard, Bennett Valley, Sonoma County 2017 is succulent, luscious, correct expression of roussanne. Savor the apricot, Meyer lemon, pear, and honey hint—a mélange of flavors not many grapes can deliver. So, this is an OMG wine—did not know fermented grape juice could deliver this merry-go-round of unexpected sensations. Pair with buttery meats—lobster, crab, paté, foie gras; turkey-stuffed bell peppers; roast chicken; pork; veal; creamy sauces. Cheese—mild cheddar, double glouchester, gouda, smoked gouda, manchego, monterey jack, brie; camembert without rinds. $38