Pale gold color; lemon, pear, yellow apple, saffron, honeydew melon on the nose; lemon, citrus zest, ginger, melon, peach on the palate.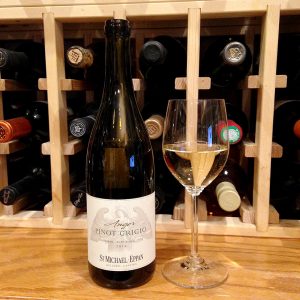 Dry; nicely creamy and full in the mouth with excellent acidity, minerality, and surprising savory nuances. Delicious example of the sophistication and depth that can be achieved in the mountain vineyards in the Anger region of Südtirol-Alto Adige in northern Italy border region with Austria. Pinto grigio can be a simple white wine, but it also can be a top-growth effort, as this one proves. Pour and destroy a wine snob's disdain for pinot grigio.
Initial fermentation and malolactic fermentation occurs 50% in stainless steel and 50% in oak barrels, then the two wine are combined. St. Michael-Eppan is a collective enterprise with some 355 members and 865 acres of vines. It was founded in 1907 and began producing wine in 1909, the same year its Art Nouveau style winery was completed. The winery and tasting room recently have been upgraded, but the century-old facilities continue to be used. The winery is universally regarded as a premier maker in the region.
Pinot grigio—pinot gris in France—is a white mutation of pinot noir. The wines typically are gold in color, with some hints of green, but they also can be pink. This one is pale gold with just slight blush of green. Northeast Italy is the main producer of pinot grigio, Southern Tyrole (Südtirol) and Alto Adige are the westernmost regions of northeastern Italy, above Venice and due north of Trento. St. Michael is 12 miles almost due north from Trento in the Dolomites mountain region, the southern Alps.
St. Michael-Eppan Anger Pinot Grigio Südtirol-Alto Adige DOC 2016 will change your mind if you relegate pinot grigio to non-serious, amateur wine drinker category. It is creamy and rich and evolves into more sophistication in glass. It is a white wine that might benefit from decanting, but I whiffed on that play and can only enjoy it well into bottle and glass. Pair with fish, boiled shrimp, lobster, roast chicken or other fowl, pork or beef tenderloin and other less-assertive meats, wide range of cheeses; will work as an aperitif with suitably sophisticated group and should be tried by red wine lovers who want to experience a high quality white and puncture some of their prejudices. $19-25