Medium gold color; honeysuckle, citrus on the nose; peach, tangerine, mango, lemon, orange peel on the palate.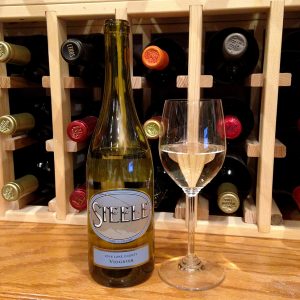 Dry (5.47 g/L RS), good acidity (3.39 pH); rich, medium body; very smooth in the mouth. Very clean; fermented in stainless steel, then aged in neutral oak for four months. Very easy drinker. Good fruit that becomes pleasantly more assertive as the wine warms in the glass.
Winemaker and owner Jed Steele's career began in the cellar in 1968 at Stony Hill in the Napa Valley. He earned an enology degree at U.C. Davis, then spent time at Edmeades in the Anderson Valley, then moved to become the founding winemaker and vice president of production at Kendall Jackson; 2018 is the 26th anniversary of Steele Wines in Lake County. Steele has four labels: Steele, Shooting Star, Steele Stymie, and Writer's Block. The winery focuses on making smaller lots—less than 2,000 cases. Steele notes: "This reflects my fascination with many diverse varietals and vineyard sites. And staying small means we can practice true craftsmanship in the production of all our wines."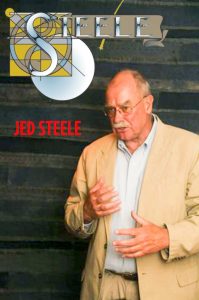 Viognier is a Rhône variety grape, and Jed Steele was among the first of California's Rhone Rangers in the mid-1990s. Honeysuckle is a classic aroma, and this delivers that in classic manner—clearly there, but also delicate and not fruity overpowering.
Lake County is one of the smallest inland wine regions in California, bounded on the west by Mendocino and Sonoma counties and by Napa to the south (it was part of Napa until 1896). Vineyards are squeezed around steep hills near the shore of Clear Lake, the largest natural lake in California—25 miles long, next to an extinct volcano. The lake and vineyard elevations make this one of the coolest wine regions in California. The viognier grapes for this effort come from the Fiora vineyard and the Dorn vineyard. The Fioras have grown grapes for Steele at the vineyard northeast of Clearlake since 2000. The Dorn family farms various parcels, their viognier is grown on their home ranch on the flanks of Mount Konocti, where the high elevation and volcanic soils provide ideal location for cool-weather viognier.
Steele Lake County Viognier 2016 is excellent example of the Rhône variety with classic viognier elements of pleasant aromatics, good fruit and body, nice acidity. Cleanly made in stainless with minimum manipulation, a defining characteristic of well-made viognier. Plump on the palate balanced by lively overall feel. Should be great with food, thanks to acidity and focus. Pair with shellfish, shrimp, lobster, crab; viognier is famous pairing with spicy foods such as Thai, Indian curries, Asian fusion, Moroccan tangine. $19