Pale straw color; peach, mango, lemon and orange zest on the nose; honeydew melon, green apple, pear, lemon, caramel on the palate.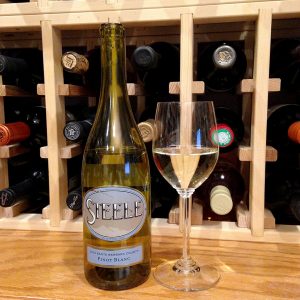 Dry; nice acidity (3.45 pH) balances fruity-creamy attack; creamy after malolactic fermentation. Fermented in stainless steel and finished six months in neutral French oak, so there is only a hint of oak and oak spices. Light-medium body. People who don't like wine will like this wine.
Pinot blanc is the almost colorless expression of the red pinot noir grape. But, this may be a white clone of pinot noir or muscadet; pinot grapes are shape-shifters so it is hard to know. The Steele website asserts: "The Pinot family have very unstable genetics and the result are the many clones of Pinot Noir, the dusky pink colored white grape called Pinot Gris and this grape the Pinot Blanc. Santa Barbara, with its maritime desert climate, provides just the right combination of characters, while preserving a crisp acidity that makes it a refreshing food wine."
Whatever the grapes are, they come from Bien Nacido Vineyard just outside of Santa Maria in Santa Barbara County. The vineyard is one of the westernmost on the property and is adjacent to fields of strawberries. And whatever iteration of pinot noir or whatever they are, the wine is truly delicious.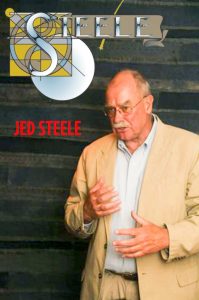 Winemaker and owner Jed Steele's career began in the cellar in 1968 at Stony Hill in the Napa Valley. He earned an enology degree at U.C. Davis, then spent time at Edmeades in the Anderson Valley, then moved to become the founding winemaker and vice president of production at Kendall Jackson; 2018 is the 26th anniversary of Steele Wines in Lake County. Steele has four labels: Steele, Shooting Star, Steele Stymie, and Writer's Block. The winery focuses on making smaller lots—less than 2,000 cases. Steele notes: "This reflects my fascination with many diverse varietals and vineyard sites. And staying small means we can practice true craftsmanship in the production of all our wines."
Steele Pinot Blanc 2016 is delicious, extremely easy drinker with subtle citrus flavors and superb, creamy mouthfeel. This is just fun to drink, with no sharp edges or challenges to your palate. Great wine, great wine to pair with seafood, but its smoothness and easy-going drinkability make it an excellent aperitif or sipped solo or with small group of friends sharing the week's gossip. $19-20