Very deep ruby color; black plum, black cherry, pomegranate, French oak, fig, spice on the nose; black cherry, licorice, black plum, roasted coffee bean, tobacco, fig, pepper on the palate.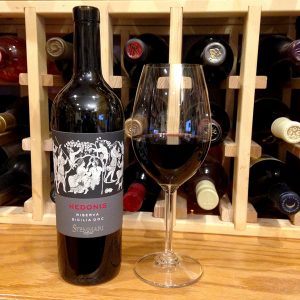 Dry; soft, sweet tannins; velvety mouthfeel; nice balance; some acidity, but overall this is very rich easy drinker. Half of the grapes are undergo fermentation and maceration for 18 days and malolactic fermentation is encouraged. That half then is aged in French and American oak for 18 months. The other half hangs on the vine longer to achieve maximum ripeness, then the appassimento method is used—grapes are dried for a few weeks to several months, similar to amarone. The grapes do not become raisins, but they do become a figgy, peppery gape bomb. The appassimento wine is aged in stainless steel for 18-20 months. When both wines are complete, they are blended together to create this excellent effort; 14% ABV.
Hedonis is a new entry into the premium wine category for Stemmari. The 2015 vintage was released in 2018. Nero d'Vola is Sicily's signature grape, and this is Stemmari's thrust to produce an age-worthy, maybe collectible bottle. They have a simpler, much less expensive Nero d'Avola offering, but this is way more ambitious (and five times the price, but worth it). Stemmari winemaker Lucio Matricardi, PhD notes: "Hedonis Riserva represents the passion and dedication Sicily has for its premiere grape, Nero d'Avola. And the wine we have crafted is very different than the Nero d'Avola found elsewhere on the island. We spent the last 15 years studying the varietal and discovering different growing and fermentation methods to create the most expressive wine possible."
Stemmari is the largest exporter of Sicilian wines to the U.S. and is part of Gruppo Mezzacorona, one of the Italian wine giants for more than a century. Lucio Matricardi is the winemaker. He was born in Abruzzo and trained in winemaking and viticulture at the University of Bologna. He earned his PhD in viticulture and enology from the University of California at Davis. He is the head winemaker for Rotari Trentodoc and Mezzacorona in addition to Stemmari. All are part of Mezzacorona Group. Prior to this he held positions at Castello Banfi in Tuscany and Miranda Estate in South Australia.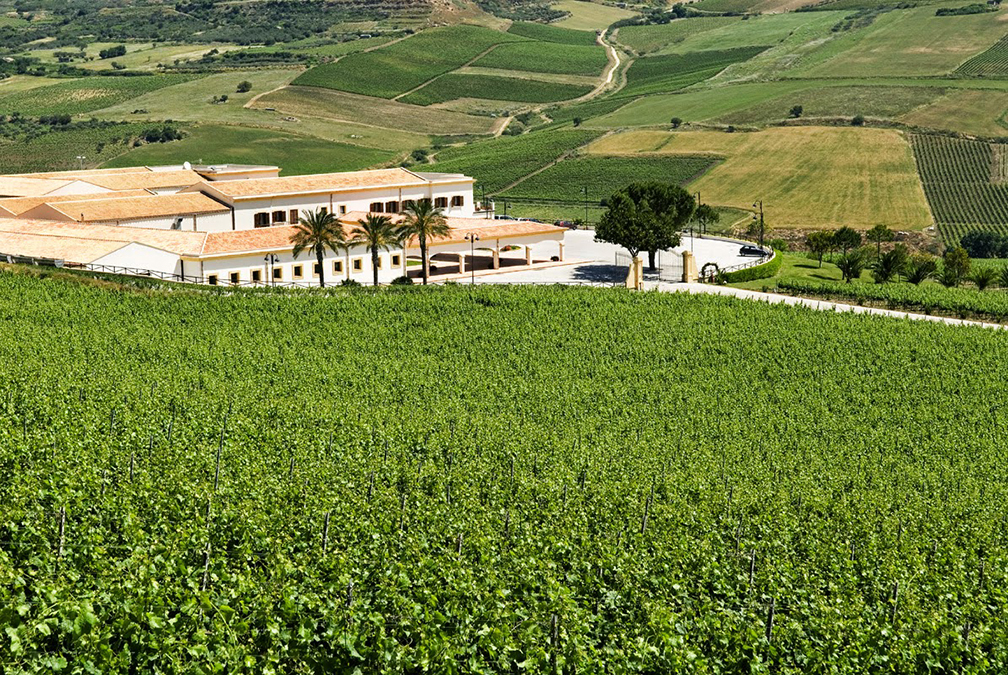 Stemmari is a committed leader in green movement, both in their vineyards and their winery: sustainable agriculture, clean and renewable sources of energy (winery is 100% solar powered), efficient use of water (waste water is recycled, rain is captured, computerized drip irrigation used), reduced carbon dioxide emissions.
Stemmari Hedonis Nero d'Avola Sicilia DOC Riserva 2015 is Stemmari pushing Sicily's signature red grape into the premium category. It is delicious in the serious wine category definition of delicious. This should be recognized as a Stemmari achievement, pushing Nero d'Avola into the extraordinary category. For a high quality, this is wonderfully affordable even at half a Benjamin price. Pair with spaghetti alla Norma and other Sicilian dishes; risotto; red meats; lamb; rich pastas in tomato sauces; beef stews; savory cheese; also works sipping solo. $50