Pale ruby color; cherry, raspberry, blueberry, baking spice on bright nose; cherry, raspberry, cranberry, red fruits, minerality, some earthiness on the palate.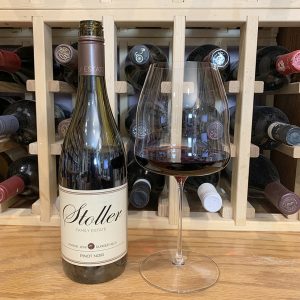 Dry; supple in the mouth; refined, refrained tannins. Good balancing acidity. Overall, smooth, soft, classic lightness and elegance of an Oregon pinot noir. Aged primarily in neutral barrels, only 15% new French, so there is only the faintest oak notes. Food friendly 14.1% ABV.
Stoller has upped production on this cuvée to more than 21,000 cases without sacrificing quality. They produce some single vineyard and single clone efforts that cost more and achieve higher quality, but this is very nice. It is a mix of all their clones from all their estate vineyards, so the grapes not used in their higher end labels. No matter, this works out very well. Also, there has been consistent increase in quality in recent vintages. Stoller is doing something right, and we get a very approachable, superb expression of Willamette Valley pinot at a fair price and a fair chance of finding it.
I tasted this in Riedel's new pinot noir/nebbiolo glass, the first time I have used this "Winewings" stemware ($35). The glass is large, with huge surface area to expose wine to air to temper acidity. The usual shape also focuses aromas. Riedel notes: "For the first time, the RIEDEL Winewings glasses primarily emphasize the minerality of the wine, whereas all other collections tend to highlight fruit."
As you expect with Riedel, the glass performs, especially in enhancing the aroma experience. It seems big for everyday use, but I intend to employ for the specific wines. As I do all my tasting in Riedel stemware, it will be interesting to set up a side-by-side experiment using this glass and the standard red wine glass I have used for years.
Owner Bill Stoller is the founder and CEO of The Stoller Group, also the president and vice-chairman of Express Employment Professionals, and founder and CEO at Xenium HR & Employer Services. A native Oregonian, Stoller holds a bachelor's degree in business and economics from Pacific University, and an MBA from Portland State University. His considerable successes in employment services allowed him to pursue his passion for wine.
Stoller gained part ownership of Chehalem Wines with Harry Pederson-Nedry in 1993. He founded Stoller Vineyards in 2001. Their winery opened in 2006 as Oregon's first and only LEED-certified, solar powered, gravity-flow operation. Its drive for sustainability earned the winery the world's first LEED gold certification. It is dedicated to producing pinot noir and chardonnay.
Winemaker Melissa Burr has been at Stoller since 2003. Burr says the challenge at Stoller is to control the vigor of the site in order to concentrate flavors. She strongly believes acidity plays key role in balance and flavor, and this effort reflects that. The Dundee Hills are located southwest of Portland, OR, beside the Willamette River. Stoller has the largest contiguous vineyard in the Dundee Hills and the fruit for their wines is 100% estate grown. Lovely country, ecologically responsible wine maker, very nice wines.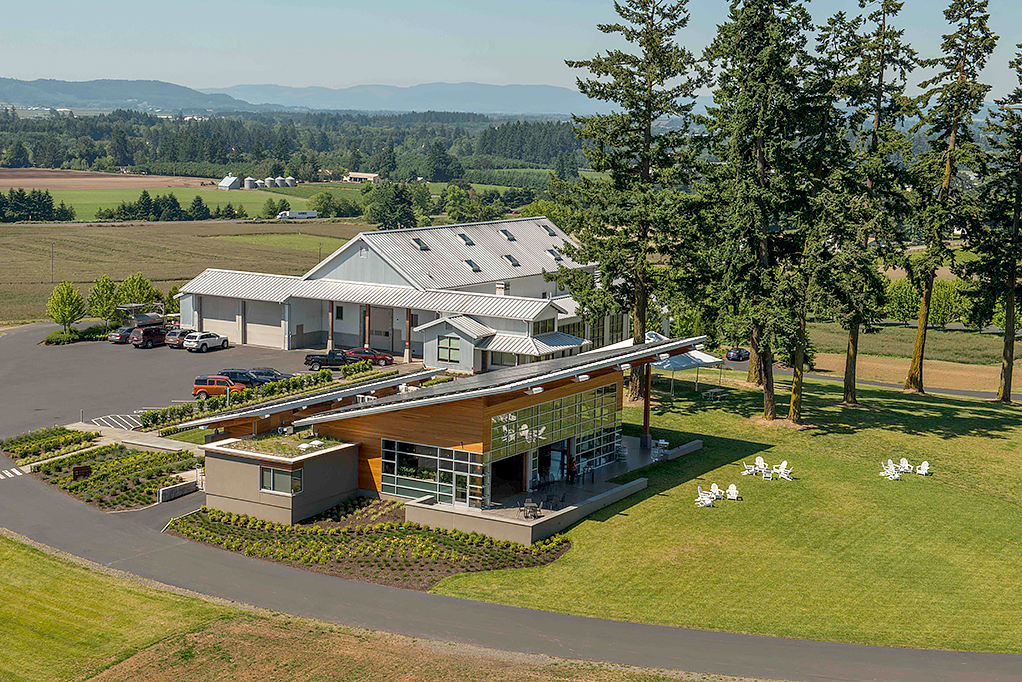 Today, the Stoller Wine Group brands include Stoller Family Estate, Chehalem, Chemistry, History, and Canned Oregon. The link below will lead you to more information about their various offerings.
Stoller Family Estate Pinot Noir Dundee Hills 2018 has impressive lightness and etherial mark of a quality Willamette Valley pinot noir. Excellent aromatics. Very smooth easy drinker. Production has increased on this Stoller offering, but the wine retains the Stoller artisanal feel. Pair with turkey; baked or broiled chicken (not fried); salmon, seafood, shellfish, fish in general; game birds like quail, dove; pork; lighter red meats. This is delicious and light enough to simply enjoy on its own, perhaps with charcuterie, neutral crackers. $30-35