Medium straw with hints of green color; green apple, peach, citrus on the nose; green apple, golden apple, citrus, honeydew melon, pear on the palate.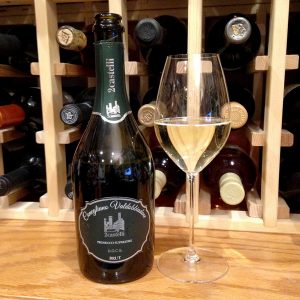 Brut; excellent acidity (3.2 pH); very fine perlage; 100% glera grapes. Fresh, very smooth, refined, easy in the mouth; no sharp edges whatsoever. Conegliano Valdobbiadene Prosecco Superiore is the highest quality region and DOCG the highest quality designation, so this is pinnacle of prosecco. It is richer and smoother than many other prosecco offerings.
Conegliano Valdobbiadene has been wine territory for millennia. San Venanzio Fortunato, bishop of Poitiers (530-607) described his homeland Valdobbaidene: "Place where the vine sprouts below the high mountain, in which the luxuriant green protects the most bare areas." In 1574, Henry III, king of Poland, while on his journey to be crowned king of France stopped in the village of Conegliano where they poured white wine for the entire day from the fountain of Neptune. In 1969, the muncipalities between Conegliano Valdobbiadene were recognized as a Denomination of Controlled Origin for Prosecco, thus the DOCG designation for this effort.

Tenuta 2Castelli is multi-generation effort of the Zago-Gasparini family. Perfection of prosecco and reverence for the land have been benchmark commitments through the years. They also promote agritourism (tourism in which tourists take part in farm activities) in the village of Collalto in a territory between two castles, the San Salvatore Castle and the Fortress of Collalto. The area covers about 7.5 acres, six of which are dedicated to the production of grapes used in this effort. The remainder of the land is covered in olive trees and forest.
Tenuta 2Castelli Conegliano Valdobbiadene Prosecco Superiore Brut DOCG is excellent example of the top prosecco region's delicious product. Smooth, round, delicious. Pair with pasta, risotto, Mediterranean cuisine, baked fish, lighter white meat, summer salads. Also works as an aperitif. $23