Medium purple color; blackberries, violets, peppercorn on the nose; blackberry, blueberry, plum, rich and ripe fruits, smoked meat, pepper on the palate.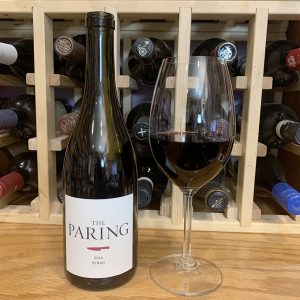 Dry; savory, earthy, tannic bite with some balancing acidity. Benefits from decanting, which evokes ripe, dark fruit sweetness and smooths things out. Structured and powerful, as you expect from well made syrah. Medium-full body. Aged 22 months in French oak, 35% new, 65% neutral. Bottled unfined and unfiltered, another reason for decanting. 100% syrah; 15.2% ABV.
With ripeness of this fruit, there is significant alcohol, but tastiness of the fruit and tannins means it does not come across as hot on the finish. This is made from vineyard blocks that just don't fit the collection—and more expensive—wines for the Jonata and The Hilt brands. Grapes primarily sourced from Santa Barbara region—Santa Ynez Valley in this vintage.
Matt Dees is the winemaker. The Paring website notes: "Armed with a degree in Soil Science from the University of Vermont and vintages at Staglin in Napa, California and Craggy Range in Hawkes Bay, New Zealand, Matt has an intrinsic feel for wine, from dirt to glass. Curious and experimental by nature, Matt's approach to winemaking is grounded in the vineyard first and foremost: attuned to the vines, the weather, the soil, Matt seems almost to be a part of the vineyard itself.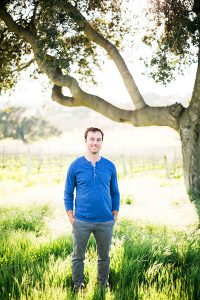 "Matt comes to wine with an untethered philosophy, a mindset embodied in The Paring. At the core of these wines one finds a wide-ranging exploration of style, vineyards and blending. When he's not working with The Paring, Matt can be found making the wines for its big sister wineries—Jonata and The Hilt."
The Paring Syrah, Santa Ynez Valley 2016 is big, bold, brawny. Decant to integrate its various dark fruit elements and open up its smoothness and the slight sweetness of the ripe fruits. Identifying this as the second label for more sophisticated wines does not do it justice. This is excellent, serious syrah and great QPR (quality-price ratio) effort.
Classic pairing with lamb and darker meats that can meld with syrah's richness and body. Also with pork; Indian tandoori-roasted chicken; grilled red meats in general; barbecue, especially spareribs; grilled vegetables; hamburgers; hard, aged cheeses such as gouda. $25-29