Toad Hollow Unoaked Chardonnay Mendocino County Francine's Selection 2014: Light yellow-green color; melon, apricot, pineapple, apple nose; peach, pear, lemon, lime and Granny Smith, yellow green-apple, tickle of tangerine on the palate.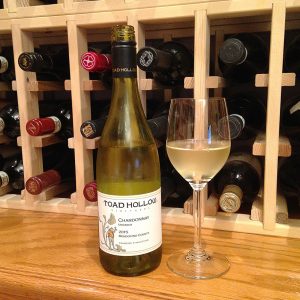 Fresh, zingy acidity (3.44 pH); light, clean, crisp, nice body and mouthfeel. Toad Hollow asserts its mission is to produce nice wine at a fair price; they achieve with this effort.
This is Toad Hollow's 22nd year making unoaked chard; back when they started most California chards were an oak lumberyard slathered in butter, maybe OK for sipping (maybe…) but not for pairing with food. The oak excess generated the ABC—Anything But Chardonnay—movement. Toad Hollow, on the other hand, was into stainless steel when stainless steel wasn't cool; bravo for their courage, foresight, and approachable wine.
The winery's name comes, according to the winery's charming website, from the original owners, Dr. Toad (Todd Williams) and The Dancing Badger (Rodney Strong), two old friends who decided to start a winery in 1994 instead of enjoying retirement and rusting away. It remains family owned, although—from the website: "Heaven is a livelier place these days as both Dr. Toad and Mr. Badger have left their wine glasses with us here on Earth, but we know that these fine gentlemen toast us regularly, as we do them!" Frankie Williams, Todd's widow, runs the winery now. This unoaked effort delivers stone fruit attack, lemon-lime backbone, great acidity, nice for price. $13-15