Medium copper color; rose petal, raspberry, cherry; strawberry, watermelon, raspberry, clove on the palate.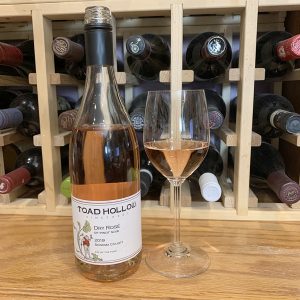 Dry—bone dry. Toad Hollow' Frankie Williams was a pioneer in dry rosé two decades ago. A host of other wineries followed her lead. This is so dry there will be folks whom it will not please, but if you enjoy vibrant tartness with excellent, pure expressions of pinot noir fruit, you will grasp its popularity with the first slurp. Made in French/Provence style rather than sweeter, fruitier style. Dry rosé is the major reason for rosé's surging market.
I have reviewed the previous three vintage of this wine. While there are nuanced differences it is consistently good. The 2018 had .026% RS, for instance, the 2019 has .032% RS (both percentages are very low, BTW) The Carneros pinot noir grapes are picked early, reducing the alcohol—11.5% ABV—and emphasizing freshness and fruit. Fermented in stainless steel tanks at low temperature. Good acidity (3.52 pH), which underscores its freshness and augers for food pairing versatility.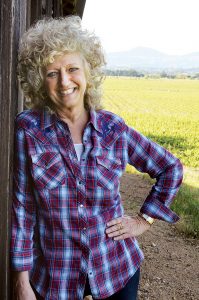 Regular readers know of my admiration of Toad Hollow's president Frankie Williams. Francine "Frankie" Williams has a colorful history that includes working for the CIA. She arrived in California in 1972 and met Dr. Todd Williams. They married in 1978 and operated a San Francisco bar named "Toad Manner." Later, they opened the Whiskey River Inn in the Sierra Foothills before moving to Sonoma and Healdsburg, where Frankie helped manage a law firm. Then came the wine operation.
The Toad Hollow name comes, according to the winery's charming website, from original owners, Dr. Toad (Todd Williams) and The Dancing Badger (Rodney Strong—he was a former dancer and choreographer). The two friends decided to start a winery in 1994 instead of retiring and rusting away. It remains family owned, although—from the website: "Heaven is a livelier place these days as both Dr. Toad and Mr. Badger have left their wine glasses with us here on Earth, but we know that these fine gentlemen toast us regularly, as we do them!"
While she has had marketing and sales agreements to achieve more distribution, Frankie retains 100% ownership of Toad Hollow Vineyards. The arrangements make it easier for you to find her wines, while Frankie continues to enjoy her days surrounded by Russian River Valley vineyards and her long-time staff.
Toad Hollow Vineyards Dry Rosé of Pinot Noir, Sonoma County, Eye of the Toad 2019 is bone-dry, 100% pinot noir in French/Provence style."Eye of the Toad" has delivered superb value-for-price for more than two decades. Its acidity, low alcohol, and dryness makes it a versatile wine for food. Pair with seafood; light salads; light salads that also include fresh fruits; light pasta; goat cheeses. Works as a very chilled summer sipper of deck, patio, picnic, porch, or pool side. $12-14