Pale copper color; strawberry, pink grapefruit, red apple, rose petals, honeysuckle on the nose; strawberry, watermelon, white peach, cherry, pink grapefruit, lemon on the palate.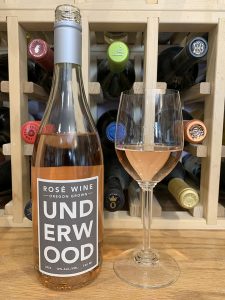 Dry; light body; no tannins, simple acidity (3.54 pH). Unpretentious. Creamy finish. Blend of 77% pinot gris, 15% muscat, 7% pinot noir; 1% chardonnay. The winery explains: "The 2022 Underwood Rosé is three-quarters Pinot Gris, with a dose of Muscat for floral pop and a dash of Pinot Noir for color." Fermented and aged in stainless steel. 12% ABV
The winery notes: "The fruit for this wine was harvested on the riper end of the spectrum (which was still restrained in the 2022 vintage), destemmed, either in the vineyard or the winery – allowing a range of skin contact times depending upon the fruit source – before the grapes were pressed, racked from their solids, and slowly fermented at 50-55F for a month or more before fermentation was halted at an average of 4.5 g/L residual sugar and blended to build a friendly, juicy, and lively Rosé."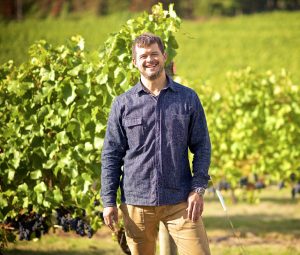 Ryan Harms moved to Oregon in 2001 and worked in various wineries. He started the Union Wine Company in 2005. He notes: "I decided that I wasn't going to accept that wine made in Oregon had to be expensive. So, Union is about creating something that I can share with friends and family and make accessible, without sacrificing quality."
Harms chose the Union Wine Company name "to honor and bring together the diversity, spirit and character of Oregon that we love. At the end of the day, wine is just a beverage. And then it becomes part of something greater. It brings people together over a meal, for celebrations big and small. And that's incredibly satisfying to me, and to all of us at Union."
Union Wine Company Underwood Rosé, Oregon 2022 is light, fun, simple, easy drinker. Wine you don't have to over-think, just enjoy. You can pour out of a bottle or a can, which makes it versatile for leisure and recreational activities where glass is not welcome. Fruit forward with mélange of fruits, led by pinot gris.
Probably best enjoyed on its own because its lightness can be overwhelmed by rich food. This comes in a 750 ml bottle, but it also sells in 375 ml cans. Seems targeted to summer sipping outside—pool, picnic, porch, pier, boat, outdoor music festival. Pair with lighter efforts with pork; fish; poultry; vegetarian fare; garden salads. Cheese—burrata; feta; halloumi; chèvre, humbolt fog; summer-molk comté; goat milk gouda; aged sheep's milk cheese. $10-14 (750 ml bottle); $7-8 (375 ml can).