Medium ruby color; dark cherry, strawberry, black pepper, black tea, spice on the nose; dark cherry, plum, raspberry, strawberry, leather, licorice on the palate.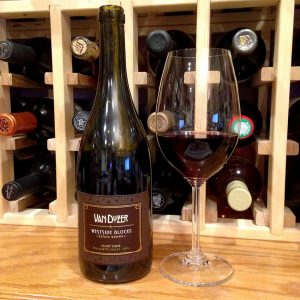 Dry; round but noticeable tannin for pinot noir; leather and earth on the finish add to its earthy, tightly structured, masculine character; good acidity for the style (3.69 pH). Some assertive oak from 15 months in 46% new French oak barrels. This is a robust Willamette Valley pinot noir with depth and character rather than the etherial pinot noir you also can get from Willamette Valley. Benefits from decanting, taking off the rougher, earthier edges, but this remains an assertive pinot noir that drinks more like a California pinot noir than a Burgundian or other Willamette Valley effort.
The 100% pinot noir grapes come from Van Duzer's Westside Blocks at the mouth of the Van Duzer Corridor. The blocks are directly exposed to the ocean winds, resulting in thicker skins which beget stronger tannins and deeper color. Burgundy-born Florent "Flo" Merlier is the winemaker. He faced some challenges with this vintage, particularly a dry east wind prior to harvest that required targeted watering in a tough vintage in Oregon.
Van Duzer Winery and Vineyards is named for its scenic location in the Van Duzer Corridor, a deep gap in the Oregon Coastal Range that draws cool, steady winds from the Pacific Ocean. The cooling gusts moderate temperatures over the entire 82-acres of vines, facilitating a long growing season and appropriate cool temperatures to promote peak pinot performance.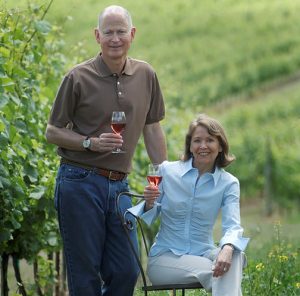 Established in 1987, the winery was run-down when Carl and Marilynn Thoma acquired the property in 1998, intrigued by the potential of the winery perched atop a knoll surrounded by vines on three sides. The couple first acquired their taste for wine while working on MBA degrees at Stanford University. They hired Jim Kakacek to replant and upgrade the property, resulting in quality production three years later. A new winery was finished in time for the 2006 harvest.
According to the Van Duzer website: "Carl came to know agriculture on his family's cattle ranch in his youth, and became intrigued by the fledgling California wine industry during his graduate school days. He began building a portfolio of premier California vineyards during the 1990s and gradually settled on the Willamette Valley as the site for a family estate winery. He honed his eye for potential as a venture capitalist in Chicago where he has managed a succession of private equity funds. He holds a degree in agriculture economics from Oklahoma State University and an MBA from Stanford. Marilynn oversees Van Duzer's marketing effort, drawing on her brand management experience at Quaker Oats and Cellular Network. She also holds a B.S. from Oklahoma State and an MBA from Stanford."
Jerry Murray, a winemaker with experience in Oregon, New Zealand, and Germany, replaced Kakacek in 2010. Florent "Flo" Merlier became the winemaker in 2011. Flo earned a degree in physics and chemistry, but he and his wife Krista could not resist the call of the vine and wine. Flo earned his Diploma of Viticulture from the University of Dijon before relocating to Oregon in 2009 and joining Van Duzer two years later.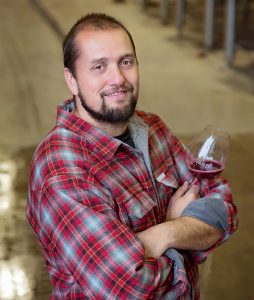 In addition to the modern winery and tasting room, Van Duzer offers great views of the Baskett Slough Wildlife Refuge. The winery-vineyard is somewhat off the main Willamette Valley winery trail, but well worth finding.
Van Duzer Westside Blocks Pinot Noir Willamette Valley 2014 is a robust, masculine effort from the western opening of the Van Duzer Corridor. Bold fruit, noticeable tannin and oak. Well made, sophisticated, a great pairing with salmon and other seafood, earthy foods such as mushrooms and truffles, roasted root vegetables, filet mignon, roasted chicken, pork chops, lighter meats and cheeses (especially Gruyère de Comté), and just to be enjoyed by itself with a wine cracker or two. $50-60