Pale gold color; pear, lemon, apple, toasty oak on the nose; pear, lemon, green apple, tropical fruit, pineapple on the palate.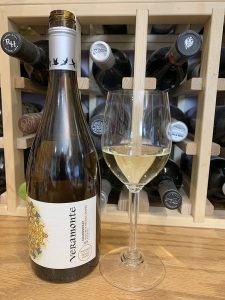 Dry; excellent acidity (3.13% pH). Very vivid fruit. Medium body. Some oak— just 15% of the juice spent eight months in neutral oak barrels, the rest in stainless steel; 30% underwent malolactic fermentation. So this is not an oak and butter bruiser. It is huge fruitiness bomb. 100% chardonnay, all organic grapes, whole cluster pressed. 14% ABV
Winemaker notes: "Veramonte Vineyards is located at the beginning of the Casablanca Valley, at the foot of the Coast Range. The vineyards are surrounded by 2,500 hectares of native forests, receive the breezes and morning fogs that blow from the Pacific Ocean, make them moderate temperatures and give the ideal conditions for growing white varieties (Sauvignon Blanc and Chardonnay) and reds of cold weather (Pinot Noir, Merlot and Syrah)."
Veramonte emphasizes organic principles. Website notes: "We follow organic practices in all our estates to ensure the best conditions for the development of the vine, thus achieving vineyards that are sustainable in time. Through cultivating healthy, living soils and maintaining a natural balance in our vineyards and Winemaking process, we obtain quality grapes that express the full potential of the terroir, leading to wines with character, authentic and expressive."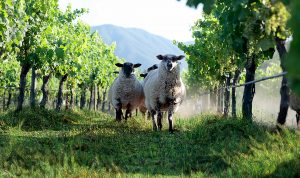 The website also tells of their incorporation of animals in the vineyard: "Sheep and other animals help us cut grass in spring, air and minimize the compaction of our soils. In addition, they act as a natural fertilizer." The vineyards also have biological corridors to preserve biodiversity and encourage a self-regulated ecosystem. Veramonte produces all its own compost, utilizing material from the winery and vineyards.
Veramonte, and Chilean winemakers in general, are leaders in taking care of the whole vineyard, and that includes the people who work in the vineyard. Workers are paid living wages. Housing is provided. The winery actively participates in the life of the villages and towns where their vineyards and wineries are located.
Veramonte Reserva Chardonnay 2019 is fruity, smooth easy drinker. Fruitiness dominates the character of this effort, balanced by excellent acidity. Superb QPR (quality-price ratio). This is not standout, peak expression of chardonnay, but it is a tasty, lush everyday drinker. Pair with seafood—oily fish, grilled salmon, tuna, shellfish; pork; chicken; chicken salad; vegetarian fare; soft, young cheeses. $9-11
Veramonte website, loads of interesting information