Deep ruby color; red cherry nose; raspberry, plum, red and black cherry, hint of mocha on the palate.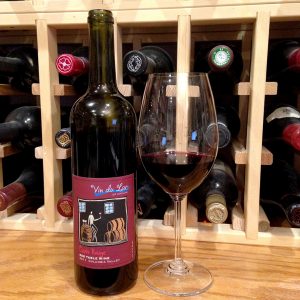 Dry; soft tannins and acidity; blend of 65% merlot, 20% syrah, and 15% cabernet sauvignon. Aged one year in mix of French and American oak, my guess is significant percentage not in new oak because the wood is reserved. Much about this effort is reserved; there is a flatness that may make you yearn for something to stand out and do something. This is the current release, not one that has reclined in my wine rack for several years.
If you enjoy merlot at its mellowest, you will enjoy this wine. If you enjoy unobtrusive reds that are content to stay in the background while you sip or pair with non-assertive foods, this will serve you well. It is well-made, no-drama merlot.
"Vin du Lac" is French for "wine of the lake." According to the winery, their mission is to establish Lake Chelan in north-central Washington, next to the Wenatchee National Forest, as a center of ultra-premium wine production on the West Coast. Production has increased each year since 2002; simultaneously, Vin du Lac has steadily upgraded its facilities while maintaining its dedication to being a small-scale wine operation. The current winery is located in Chelan Falls, five miles from the vineyards. Larry Lehmbecker in the winemaker and owner with Michaela Markusson.

All wine grapes at Vin du Lac are hand harvested. All wine lots are fermented in small batches. All red wines are true barrel-aged wines—no oak alternatives are employed in any of their wines. The website notes: "Although we have grown significantly from that first 2002 crush, we will never grow so large that we have to abandon boutique production techniques and values. That is our winemaking promise, and the essence of our commitment to quality."
Vin du Lac of Chelan Cuvée Rouge Columbia Valley 2011 is not a dramatic wine, but there are many people who consider that a plus, also times when that is an asset even to lovers of audacious wine. Every bottle of red wine does not have to be Ethel Merman. Sometimes you want a little acoustic Allison Krauss, and this fits that niche nicely. Pair with chicken and lighter meats, very lightly spiced darker meats, roasted pork loin, lamb, meatloaf, hamburger steak with onions and gravy, roast duck, roasted tomatoes, beef bourguignon, shepherd's pie. May not pair well with fish or spicy foods. $16-20
Vin du Lac – Chelan Wine website