Pale yellow color; white peach, citrus, grapefruit, pineapple on the nose; citrus, grapefruit, white peach on the palate.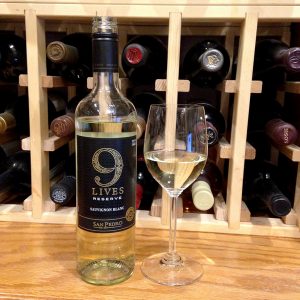 Dry; somewhat thin in the mouth; fruity; excellent acidity (3.2 pH); 100% sauvignon blanc. Struggles to have an identity, but considering Viña San Pedro's 9 Lives offerings are the winery's under-ten-dollar plays, you get what you pay for. Don't expect to be awed by this effort. At the same time, this is acceptable wine. More than adequate for a kick-back, even fast-food meal, or as third bottle at a serious wine evening; 12.5 % ABV.
Viña San Pedro is a Chilean winemaker established in 1865. The grapes for this effort come from the Central Valley of Chile. The Correa Albano brothers, pioneers in bringing Old World vines to South America, founded the winery in 1865. Today, Vina San Pedro is a major Chilean maker, exporting to more than 80 markets across five continents with its brands: Altaïr, Cabo de Hornos, Sideral, Kankana del Elqui, Tierras Moradas, 1865, Epica, Castillo de Molina, 35 SUR and GatoNegro (this wine's label—and its website and promotional support materials—make it hard to determine if this is one word or two, but it appears Viña San Pedro wants it to be one even if search engines balk).
Viña San Pedro is part of the VSPT Wine Group, Chile's third largest viticultural group and the second-largest exporter of Chilean wine. Viviana Magnere is the GatoNegro winemaker. She started at Viña San Pedro in 2006 and became the leader of GatoNego—Viña San Pedro's most global brand—in 2014. Viviana Magnere graduated as an Agricultural Engineer at Universidad Católica de Chile, specializing in enology.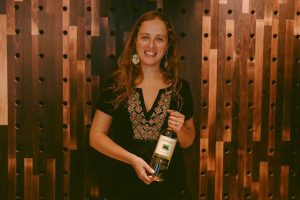 It appears GatoNegro may be moving away from its black cat logo. There is no image or mention of a black cat—or the words GatoNegro—on the label. The emphasis now is on 9 Lives. Such is the maturing of a brand, or perhaps an effort to isolate this from better, more expensive elements of their portfolio.
Viña San Pedro GatoNegro 9 Lives Reserve Sauvignon Blanc 2018 is a commodity white. Nothing off or wrong, but nothing to make it special beyond price and sauv blanc's ability to pair with range of foods. Smooth, inoffensive, easy drinker. This can work solo when poured cold on deck, patio, or poolside. Pair with shellfish and battered fried fish; vegetable entrees and salads; pasta; spicy sausage; goat cheese; brie, pears & brioche (visit the winery website for this and other recipes). $7-10
9 Lives website with interesting opening video explaining the name
Video of horseback tour of Viña San Pedro vineyard gives sense of place