Deep, bright tawny color; nutty, honey, fig on the nose; rich, ripe, fruity, with notes of fig, chocolate, honey, and wood aging on the palate.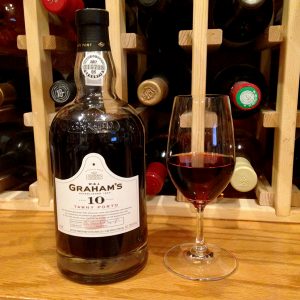 Sweet; plush and creamy in the mouth; notes of vanilla, raspberry emerge. Nuttiness ranges from hazelnuts to pecans. Nice and long finish with spice and honey notes. The "10 years" is an average age of the various vintages that went into this blend, some are younger, some are older, the average is 10 years, but 10 years also indicates a style. This possesses the signature Graham's richness, elegance, and lingering finish.
This is sealed with a T-cap, and because it is a fortified wine, it can remain fresh after opening for two to four months if stored in a cool, dark place—like a wine refrigerator.
Graham's ports traditionally are sweeter and more fruit-driven than others, and this certainly qualifies. They also are sensationally smooth on the palate, delicious, and they virtually command you to take another sip—although at 19.5% ABV, some resistance is advised somewhere down the line.
Brothers William and John Graham established their firm in northwest Portugal to trade in textiles. In 1820, they accepted 27 barrels of port in payment upon a debt. Shortly thereafter, they decided to devote all their energies to making port wine. The Symington family, the major player in port, acquired Graham's in 1970, which represented an interesting twist since a century before the founder of Symington, A.J. Symington, began his port career at Graham's.
Ports are sweet, fortified wines made in Portugal. The grapes come from vineyards along the Douro River in the hot areas in the Douro Valley, away from the Atlantic, almost to the Spanish border (the Douro flows into Portugal after winding its way through much of central Spain; it is the third-longest river in the Iberian Peninsula). After the juice is shipped in barges down the river, it is made into wine in "lodges" in the town of Vila Nova de Gaia, across the Douro from the port city of Porto.
Fermentation starts, but when the alcohol level reaches six to nine percent, brandy is added, which stops fermentation because the alcohol kills the yeast. Stopping fermentation preserves the sweetness and fruitiness of the grapes. The brandy increases the alcohol level to around 20% ABV (this is 20%). While port is sweet, tannins and acidity provide balance, so this is sweet dessert wine but is delicious rather than being cloyingly sweet.
W. & J. Graham's 10 Year Old Tawny Porto is indulgently rich and delicious. Sweetness balanced by acidity. Pleasant notes of wood aging, plus a hint of fresh fruit, which is nice trick for an average of 10 years in barrel. Pair with dark chocolate, milk chocolate, chocolate-orange cake, crème brûlée, fruit tarts, nuts, black forest cake, hard cheese, Stilton cheese, blue cheese with dribble of honey. It also works very well sipped solo in front of a fire or dinner table and paired with lively conversation or quiet contemplation while the 20% alcohol keeps you warm and secure. $32-36