Pale straw color; lemon, tropical fruit, lemongrass nose; grapefruit, lemon-lime, pineapple, stone fruits on the palate.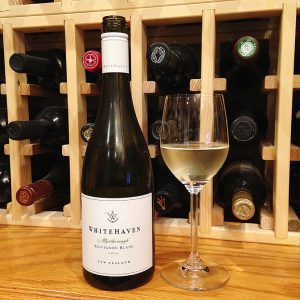 Classic Marlborough sauv blanc. Ripping acidity (3.3 pH); dry, clean, crisp; medium body with some creaminess; juicy, vivid fruit; lingering finish of citrus tartness. Suggestions of white peach and pear emerge in the mid-palate after some time in the glass/air. Nice balance and mouthfeel. Should play very well with food—seafood, shellfish, curries and spices, garden salads, vegetarian dishes.
WhiteHaven began as the dream of Sue and Greg White in 1994. Settling in the heart of the Marlborough, New Zealand, one of the epic sauv blanc regions on the planet, they aimed for high quality, single varietal wines to present to a world market. Their philosophy centers on commitment to "quality without compromise." All the grapes in all the Whitehaven wines are 100% Marlborough grown.
Sue heads the company today, continuing the dreams she enjoyed with her late husband to produce straightforward, pure varietal, premium label wines. Whitehaven is a Sustainable Winegrowing New Zealand accredited winery with grapes from 100% accredited vineyards. Waste created at the winery is recycled. Grape skins from the pressing is used to feed livestock. Sheep are put on the vineyard each year to eat grass and weeds, and to fertilize and turn the soil.
Sam Small is the senior winemaker; his university education earned him a degree in chemistry, but his interest in wine lead him to a post-graduate degree at the University of Adelaide, followed by work in Napa Valley and Italy. He joined Whitehaven in 2000. Siobán Harnett is the viticulturist, the person who manages the vineyards and the relationships with Whitehaven's contract growers. Harnett studied viticulture at Cal-Davis and earned a post-graduate degree after earning a BA in agriculture at Canterbury's Lincoln College. She also holds a MBA from Wellington's Victoria University.
Whitehaven Marlborough Sauvignon Blanc 2016 is a solidly dependable, spot-on Marlborough sauv blanc from a prestige maker. Gallo imports the brand into the U.S., so there is ample distribution. You should be able to find it, and you should invest in a bottle when you do to experience the pure expression of sauvignon blanc from Marlborough, one of the word's greatest regions for the grape. $16-20