Deep ruby color; black cherry, bell pepper, black currant on the nose; blackberry, black cherry, green olives, raspberry, oak spice, ripe plum on the palate.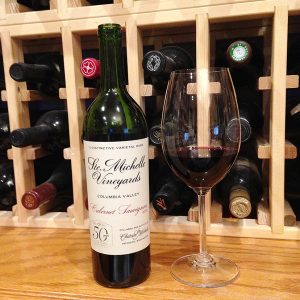 Dry; strong core of dark berry fruits from one of the warmest vintages in Washington State history, thus the juicy, fruity ripeness. Blend of 87% cabernet sauvignon, 6% merlot, 4% syrah, 1% malbec, 1% cabernet franc, 1% petit verdot—thus the rich blend of flavors. Relaxed, silky tannin and oak—14 months in American and French, 32% new. Medium body, medium finish, tons of ripe dark fruit.
In 2017, Chateau Ste. Michelle celebrates the 50th anniversary of making wine with classic European grapes, in this case in Bordeaux style, so this wine is released with a vintage label: Ste. Michelle Vineyards. The original 1967 effort was led by legendary winemaker Andre Tchelistcheff and the winery was called Ste. Michelle Vintners—thus the label. In a side note comparison, 2016 was Robert Mondavi Winery's 50th anniversary. When Ste. Michelle Vintners built a French style winery chateau in Woodinville in 1976, they changed the name to its present Chateau Ste. Michelle.
People often think of Washington and rain, but the winemaking is done in the near-desert eastern part of the state. Columbia Valley sourced grapes for this from its Cold Creek, Canoe Ridge Estate, and Indian Wells vineyards. Lying in the rain shadow of the Cascade Mountains, the vineyards only get 6-8 inches of rainfall each year. Because of desert summer dryness and deep winter cold, the cabernet sauvignon, chardonnay, merlot, and syrah vines at Canoe Ridge enjoy protection from mold and pests—particularly phylloxera. All vines are planted on their own rootstock, helping maintain the health and longevity of the vineyards and preserving the grape variety in its natural state without the influence of grafted roots. All vineyards earn certified sustainable agriculture and enjoy salmon safe recognition.
Chateau Ste. Michelle started as a hunting retreat and rural farm (called "Hollywood Farm") built by lumber baron Frederick Stimson. The wine operation started in 1954 as the "American Wine Company" after the merger of the the Pomerelle Wine Company and the National Wine Company. The National Wine Company was founded in 1934 and is the date Ste. Michelle claims for its founding—the 50th anniversary celebration marks the winery's turn to European-style grapes and wine, not the winery's beginning. Today, Chateau Ste. Michelle is Washington's oldest and largest winery. It is owned by Altria, the company formerly known as Phillip Morris.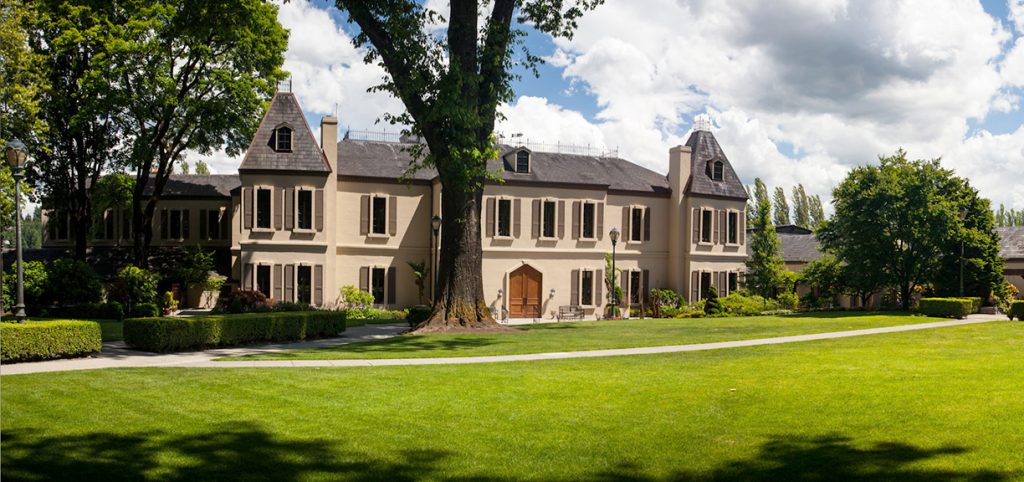 Chateau Ste. Michelle is one of the few premium wineries in the world that operates two wineries, one devoted to white wines and the other to red wines. White wines are made at the original chateau in Woodinville; reds are made at the Canoe Ridge Estate winery in Horse Heaven Hill AVA in Eastern Washington, at an historic site in Walla Walla. Bob Bertheau is the head winemaker at Chateau Ste. Michelle.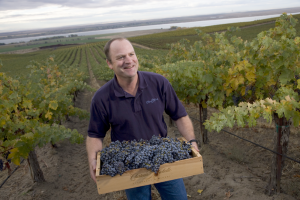 Chateau Ste. Michelle Cabernet Sauvignon Columbia Valley 2015 is a rich, concentrated, relatively simple, straightforward cab that will please many palates. Very fruit-forward, excellent value, widely available. Pair with grilled meats, pizza, hamburgers, pasta with tomato sauce; if you go vegan, pair with roasted eggplant or a BBQ burger patty made with pinto beans, dried shitake mushrooms, soy sauce, oil, black pepper, molasses—all cooked on a grill to get burn marks. $12-15