Deep copper color; cherry, raspberry on the nose; strawberry, red cherry, raspberry, watermelon, cranberry on the palate.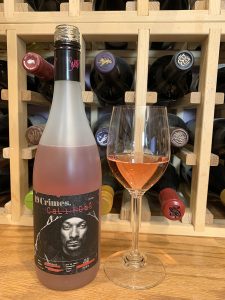 Off-dry with a dose-plus of residual sugar—this is a mass-market commodity wine, after all. Fruit forward. Light body. No tannic presence. Some good acidity to balance the sweetness. Treasury Wine Estates' 19 Crimes brand primarily sources from Australian makers—Treasury is an Australian company—but this is sourced from California. Blend of 75% zinfandel, 20% grenache, and 5% pinot noir. At this price and celebrity-wine niche, you are not going to get top-shelf fruit, but give this effort its due—it is drinkable wine without turn-off flaws. A step up from white zinfandel.
An interesting part of this play is its 10.5% ABV. Lower alcohol wines are a thing today—and not unwelcome. Given the time of the year, a case can be made for this being a "Mother's Day wine." This is not a sophisticated, layered, textured rosé, but it is a good-tasting easy drinker. It certainly is a wine that wine novices and very occasional wine drinkers can enjoy.
19 Crimes is owned by Treasury Wine Estates, a major international player in the wine world, making wine in 12 countries, selling more than 35 million cases of wine a year, and generating sales of more than $2 billion. Labels you may recognize some of their other brands—Stags' Leap, Sterling Vineyards, Beaulieu Vineyard, Beringer, Chateau St. Jean, Greg Norman Estates, Lindeman's, Wolf Blass, and Treasury's flagship—Penfolds.
19 Crimes Snoop Dog Cali Rosé 2020 is nicely done, fun, easy-sipper if you like fruit-forward with mass-market dose of sweetness. Tart raspberry and strawberry and acidity help counter-balance the sweetness. Very approachable—very approachable. This is wine made to sell. Uncomplicated appeal to your hedonistic impulses abetted by its light bad-boy patina with Snoop Dog on the label. But Snoop Dog is mainstream pop culture, maybe by now a half-step past his minutes of fame. Enjoy this wine for what it is. If you want more, think Provence or other serious makers. If white zin is one of your go-to pours, this should make you happy. $10-13