Deep purple-black color; blackberry, plum, vanilla, chocolate on the nose; blackberry, blueberry, plum, oak, sweet tobacco, dark chocolate, clove on the palate.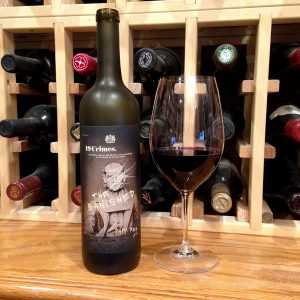 Off-dry (12 g/L RS); very plush and heavy in the mouth; relaxed, sweet tannins; good acidity (3.56 pH) that offsets the sweetness of the residual sugar and the heavy use of oak (100% American). Flagrantly flirts with jammy. Big Aussie red style—you love it or you do not. Blend dominated by shiraz, complemented by cabernet sauvignon and grenache from South Eastern Australia. Plenty of very ripe fruit flavors in this bottle.
The label name comes from Australia's penal colony beginnings. In the 18th and 19th centuries, there were 19 crimes that earned you "punishment by transportation"—banishment to Australia. The crimes ranged from somewhat serious—grand larceny—to the weird: clandestine marriage (marriage without church banns or license) to impersonating an Egyptian (which actually meant being a gypsy—a crime previously punished by death in England). To Australia they came. Some of their descendants make this wine today.
If you enjoy high-tech marketing gimmicks, download the 19 Crimes app for your cellphone, launch the app, point your cellphone camera at the bottle's label, and the convict on the label becomes animated on your phone, then tells you who he is and why he was banished to Australia. Visit the website to find out more.
The wine is made by Treasury Wine Estates, an Australian-based global winemaking and distribution operation that traces its roots to Penfolds Wine and Foster's Group beer brewers. Because the wine business under-performed the beer business, the wine operation was spun off from Foster's in 2011, and the wine business has struggled and morphed since then. It remains, however, a major international player in the wine world, making wine in 12 countries, selling more than 35 million cases of wine a year, and generating sales of more than $2 billion. Labels you may recognize include Beaulieu Vineyard (BV), Beringer, Chateau St. Jean, Greg Norman Estates, Lindemans, Stag's Leap, Wolf Blass, Sterling Vineyards, and their flagship—Penfolds.
19 Crimes The Banished Dark Red 2016 is big fruity, smooth, Aussie shiraz monster; loads of dark fruit and oak. Drinkers who enjoy their reds on the sweet side will enjoy this, but this is not sugary grape juice. The 12 g/L residual sugar pushes into off-dry territory, but just past the border. Still, fruity sweet clearly is an adjective to use with this. The price point is sensational; you can be assured Treasury has placed this crowd-pleaser in supermarkets and Sams Clubs just about everywhere. You could pair with pizza, burgers, beef in general, but it's vivid fruitiness and sweetness indicate it also is a solo-sipper, maybe something you drink to stoke the buzz after a meal where more sophisticated wine was poured. $8-10
Photos: Because 19 Crimes is Aussie negotiant wine—the maker buys from many growers and makes the wine in a wine factory, there are no charming vineyard vistas or tasting room shots available. But here is YouTube video of the wine label talking via your smart phone:
YouTube video of talking label