Deep purple color; dark fruits galore, chocolate, vanilla on the nose; dark fruits, plum, dark cherry, blueberry, cherry cola, plenty of oak on the palate.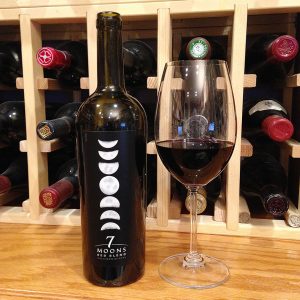 Very smooth, almost no tannin; jammy, loads of fruity sweetness, layers of oak. Blend of syrah, merlot, petite sirah, zinfandel, cabernet sauvignon, malbec, grenache. This is an everything but the kitchen sink red blend from Lodi and other Central Valley/Central Coast vineyards. Mass market red dominated by sweetness and oak; good acidity lends some balance; cinnamon candy on the finish. Medium body and very simple, jammy effort. If you want to experience what jammy and oak mean in a supermarket wine description, this is where you go.
This Constellation Brands effort targets entry-level drinkers. It is not for you if you enjoy sophistication, layers of flavor, tannins, appropriate oak, and precise fruit. If you yearn to sip alcohol cherry coke and blackberry jam with pizza and lust for the vanilla and chocolate aggressive oak delivers, you have found your wine in 7 Moons Red Blend.
7 Moons Red Blend 2015 targets those who enjoy fruity, jammy, big-time sweet oak, so many grapes you gotta like at least one of them concoctions. Not my style, but undoubtedly this has a market; Constellation Brands did not become the world's largest winemaker by misjudging buyer's palates.
Gimmick—collect all seven black corks, each with a different millennial-directed aphorism tied to moon phases. Cresent: "Open your eyes. It's time to make your dream a reality." Quarter: "Trust your instincts. Make your move with confidence." You get the idea. This is a market-driven confection rather than an expression of varietal or terroir. $12-16