Very, very pale gold color; honeysuckle, whiff of lemon on the nose; white peach, honeydew melon, lemon meringue, lime on the palate.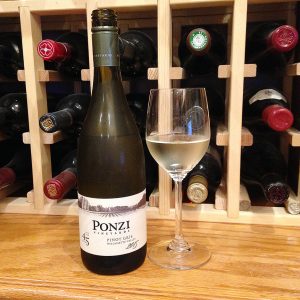 Dry; light in the mouth; reserved acidity (4.2 pH)—characteristic of pinot gris; slight touch of fruit sweetness (5.7 g/L)—also true to the varietal. Nice freshness, very clean (aged entirely in stainless steel); palate cleansing. Simple wine without exciting notes, however, so this should be paired with food rather than tried as a solo sipper.
Fruit for this effort comes from Ponzi's LIVE certified sustainable Aurora, Avellana, and Estate vineyards. Winemaker Luisa Ponzi consistently delivers quality and is second generation of reasons the Willamette Valley is in the conversation as one of the world's great wine regions.
The Willamette Valley (south of Portland) is notable for the strictest label laws in the U.S. and has a deeply serious commitment to environment and worker-friendly agriculture. Ponzi has been a leader in that effort since Dick and Nancy Ponzi became pioneering winemakers in the Willamette Valley in 1970. By 1989, Robert Parker noted: "Ponzi continues to make Oregon's most complex Pinot Noir" and likened the wines to the great wines of Burgundy. In 1993, daughter Louisa Ponzi returned from post-graduate enological studies in Beaune, France, after receiving the certificate Brevet Professionnel D'Oenologie et Viticulture, the first American woman to earn the prestigious distinction. She became the winery's lead winemaker the same year. Mom and dad must have been proud while wine lovers are deeply grateful.
Luisa Ponzi is an example of how women are now some of the premier winemakers in the world. In part, it is biology—statistically women are more likely to have superior noses to men and more taste receptors than men, plus they can multitask more effectively than men. Freed from gender discrimination, women winemakers rise to the top of the profession and produce sophisticated delights. Luisa is more than a giant in Oregon winemaking, she is force in the entire wine world. She and her sister, Maria (director of sales and marketing) became the owners and operators of Ponzi in 2012, making Ponzi one of America's few sister-run wineries. May the sisterhood of wine continue to increase.
Ponzi Vineyards Pinot Gris Willamette Valley 2015 is straightforward, simple expression of Oregon pinot gris from exceptional and iconic winemakers. $15-17