Dark purple color; blackberry, plum, oak on the nose; black cherry, red currant, black olive, vanilla; berry flavors linger on the finish.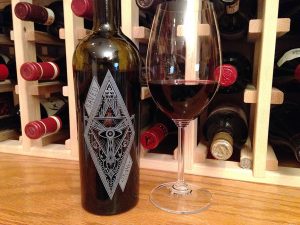 Semi-bold wine; it is fluent in juicy red and black fruits, hint of sweetness, massively diverse fruity flavors; delicious overall.
Tannins are soft and acidity tame, making this a supple, laid-back easy drinker, even at 15.2% alcohol.
The carousel of flavors come from what amounts to a grape data dump: 31% zinfandel, 23% carignane, 12% petite sirah, 11% malbec, 10% merlot, 9% petit verdot, 2% mixed black grapes, 1% ruby cabernet, 1% syrah; the ingredients were handled separately, then blended, to preserve the fruit characteristics of each. Saved pulls it off, a tribute to winemaker Clay Brock, who also is director of winemaking at Wild Horse Winery & Vineyards.
Brock's partner is artist/tattoo artist to the stars, Scott Campbell, and throw in Campbell's smoking-hot wife, actress Lake Bell, who has her own family connections to the wine industry.
The "Saved" name comes from Campbell's famous "Saved" tattoo studio in Brooklyn, NY. If this sounds like a chaotic mishmash of trendy memes, well it is, but it works. Very tasty; folks who enjoy plush, fruit-forward, ziny California flavor parades will drink this up. $22