Very dark ruby color; smoke, red fruit nose; load of dark fruit, sour cherry, plum, blackberry, spice, tobacco.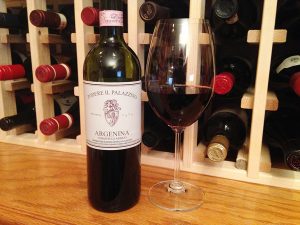 Tannins remain taught after seven years (but in a good way), medium body, juicy, nice acidity, holds fruit and flavor through long, supple finish that coats back of the tongue, then lingers some more.
Quality effort from long-time, dedicated stewards of the land; the Sderci family took ownership of Il Palazzino in the mid-1800s; Alessandro and Andrea Sderci took over management in 1970s.
Grapes for this effort grow on 7.5 acres 12 miles northeast of Siena, in southern part of Chianti Classico area. Thanks to small size, vineyard is organically farmed by hand-labor; no insecticides are used; sulfur is used at bare minimum; naturally present yeasts are used in fermentation; this is old school, Old World wine like your distant forebears sipped.
Serious chianti; it is not delicious in how I use the term, it is serious and excellent, not an easy-drinking, pop-and-pour; it consistently receives good scores—90-plus by Parker and Wine Spectator—but it likely is wine those who prefer fruity-sweet, oaky, jammy efforts will find way, way too austere.
Decanting or time in air in large glass will significantly soften the edges, but this remains a wine newbies should approach with respectful caution. Great value-for-price for those who enjoy classic chianti. $17-20