Pale-to-medium ruby color; cherry, cranberry, raspberry, some earth on the nose; red fruit melody on the palate with a touch of spice, plum and vanilla on the palate.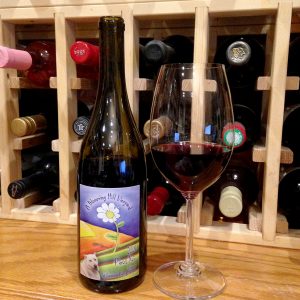 Dry; captures the etherial essence of Willamette Valley pinot noir with its light body, silky smoothness, gentle tannins, good acidity. This all makes for superb food wine because it does not pound on your palate; it complements rather than competes with food.
The estate grows two blocks of pinot noir, both named after winery dogs. Gemini—this effort—was planted in 2008 with 666, 014, and 015 clones. Troubles is the other block. Trouble is much more emphatic than Gemini. Both wines appear to be finished in French, Hungarian, and Oregon oak, 30% new each year, which accounts for the subtle, pleasing restrained oak presence, although Trouble has more oak.
Note the two reviews are for the 2014 vintages. Checking notes from other reviewers on later vintages gave different opinions, including some negative reviews. I enjoyed both, but for different reasons. The 2014 Gemini was what I look for in a Willamette Valley pinot noir; the 2014 Trouble is more what I expect from a West Coast/California pinot noir. Here is link to Trouble review on my website: Link to Trouble review.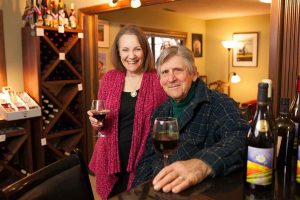 The winery owners' back story is charming. They met more than 40 years ago, when Jim worked for the company involved in legendary children's shows "Sesame Street" and "The Electric Company," as well as notable concerts filmed in Central Park. But it wasn't until 2006, after each of them had moved to the Pacific Northwest, that they met again, and this time cupid's arrow hit them both. The company's website gives greater detail of their love story, romantics should visit.
A Blooming Hill Vineyard Pinot Noir Gemini Willamette Valley 2014 is subtly impressive Willamette Valley effort, more evocative of Burgundy than California, but it must be acknowledged the Willamette Valley is establishing its own niche in the pinot noir firmament. This will pair with wide range of fare—roast chicken, pork, mushrooms, stronger flavored fish such as salmon, duck, charcuterie, cold meats, goat cheese, spring vegetables such as peas. $30
A Blooming Hill Vineyard website with some nice videos. You will get a flavor of the operation.